5 reasons you need this Darth Vader in your collection
Feel the full power of the Dark Side!
Sideshow's artists went above and beyond to capture the ultimate Sith Lord in cinematic detail with our Darth Vader Deluxe Sixth Scale Figure. Designed on a fully articulated poseable body, with iconic screen-accurate costume and essential accessories, the Darth Vader Deluxe Sixth Scale Figure has impressed Star Wars Collectible  fans across the galaxy. Straight from esteemed reviewers, here are 5 reasons every Star Wars fan needs this figure in their collection!
---
5. The swap-out hands and accessories offer an endless variety of powerful poses and Force gestures
"You can swap out Vader's hands with a multitude of options for when you want Vader to hold a lightsaber, make a fist or force choke a lippy Imperial officer. There's even a Chopped Off Right Hand option, for when father/son reunions go all wrong… again." – IGN
"Movie-accurate costume and super-poseable…This sucker's got more power than the Death Star." – MTV Geek
---
4. The light-up features are most impressive
"The chest box and the belt light up! Yes, you probably already knew this, but when you flick the little switch on the battery pack on the belt, you will lose your mind. The green lights on the belt are bright and vibrant and the three red lights on the chest box flash in sequence just like the film-used costume." – RebelScum
"The large light up display base features the Imperial insignia in the center and is made to look like Darth Vader's meditation chamber. It glows brightly and is big enough to display Darth Vader standing or kneeling on it, or anything else you choose." – Jedi Temple Archives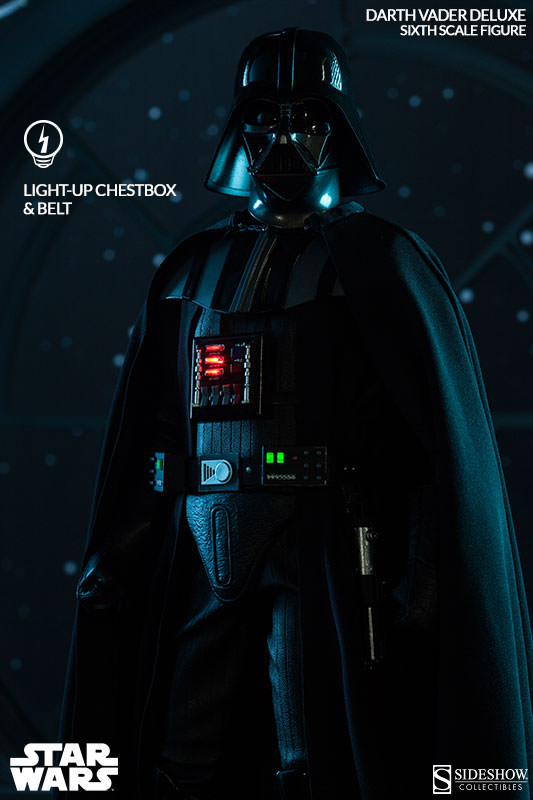 ---
3. His costume and armor are screen-accurate and expertly crafted
"Every aspect of Vader's costume is intricately replicated, from the chain that holds his cape to the we-never-saw-it-in-the-movies-but-he-must-have-had-it hook on his belt to carry his lightsaber. Sideshow also continues something they do very well (and which matches George Lucas' approach on Star Wars), giving many of their collectibles purposely worn, lived-in touches, such as the scuffs and fading built into the edges of the mechanical sensors Vader wears on his belt and body." – IGN
"The cape and tunic both hang with weight and flow like we've never seen in this scale. In images of the figure in a static pose, this Darth Vader could be mistaken for a 1/2 scale statue or even a full sized costume! This is because of how well the cape hangs." – RebelScum
---
2. It's all about that base. Er… those bases.
"Not only do you get non-removable helmet Darth Vader portrait, you also get the Anakin Skywalker (Sebastian Shaw) portrait as well. The bonus here however is that for the 'removable helmet' version of Darth Vader, Sideshow has created an accompanying mask and dome in addition to a light-up display stand (that is gorgeous by the way) so you can create your own little 'off screen' moments with Darth Vader getting ready for the day. This little set-up in and of itself may be the most impressive aspect to this release." – Jedi Temple Archives
"The figure's display stand, featuring the Imperial logo, light ups and it looks terrific." – IGN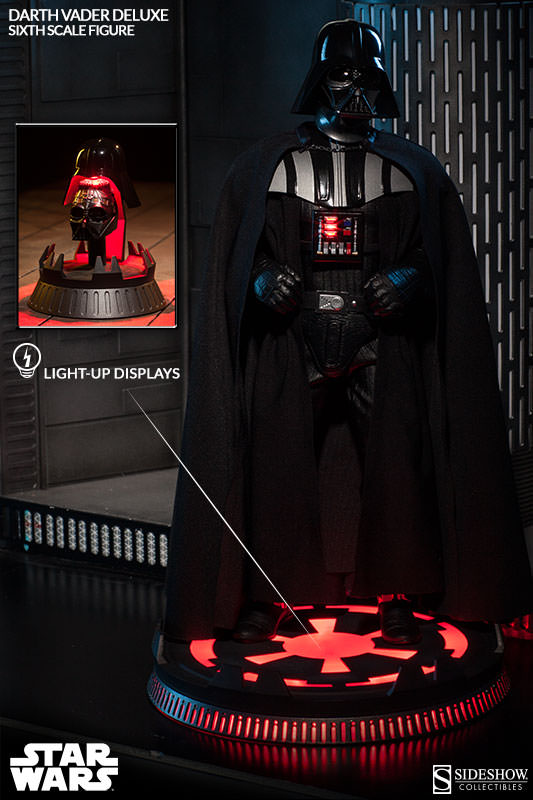 ---
1. It's simply the ultimate Darth Vader figure
"It's difficult to create a new Darth Vader figure that stands out as particularly special or different – much less one that is arguably the best and coolest Darth Vader figure ever. And yet that's what Sideshow Collectibles have accomplished." – IGN
"We knew that the creative team working on this figure were putting their heart and soul into its creation, and those efforts are all very visible in the little details. All things said, this figure is so well done that it belongs in everyone's collections, even if it is the only 1/6 scale figure in the collection. When displayed on its base, the Darth Vader figure is suitable for display on your desk at work, in your living room, or in a key position in your Star Wars room." – RebelScum
"Simply put, Darth Vader is stunning. It's quite a feat that Sideshow, who already released an excellent Darth Vader (Sith Lord) figure in the summer of 2009, have completely outdone that figure with regards to likeness, cleaner aesthetics, and an overall more accurate representation of the most popular villain in Star Wars." – Jedi Temple Archives
"I'm not going to use hyperbole here: This might be the single greatest 'Star Wars' toy ever to be created in the entire history of the universe. This is the one you wanted since you were a little kid." – MTV Geek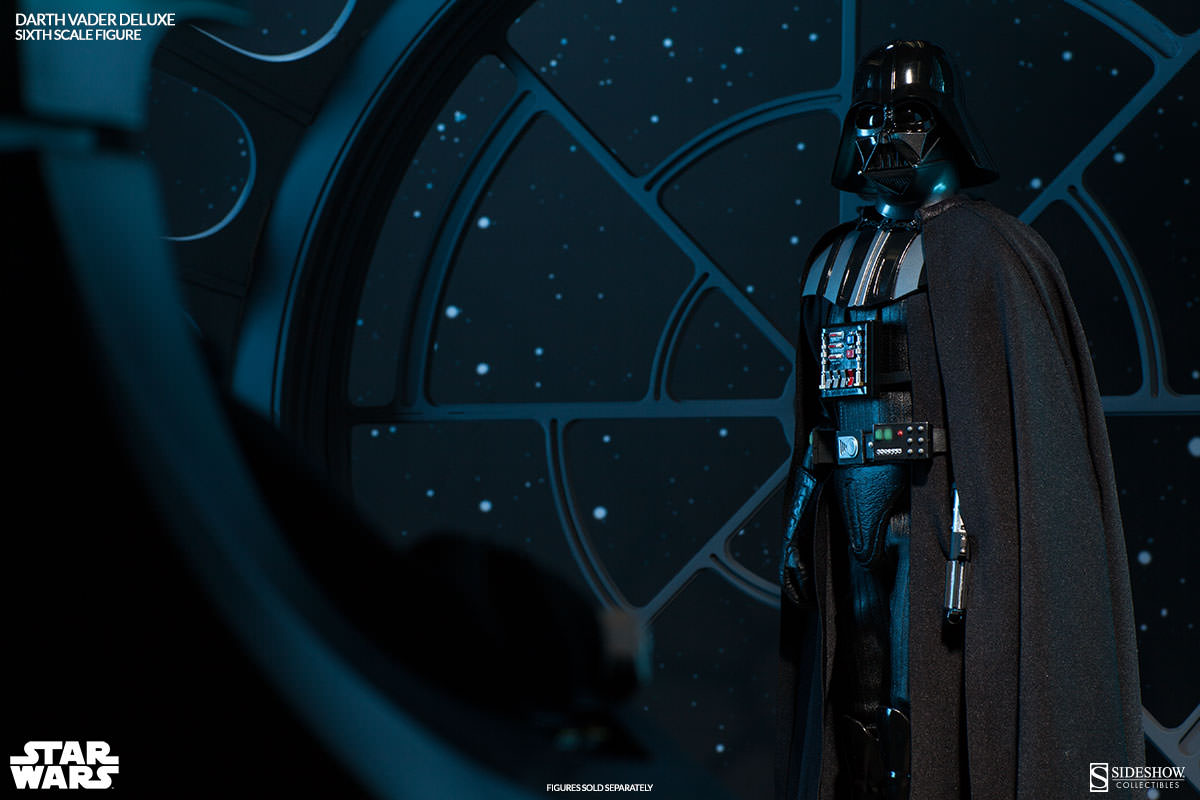 [store-items skus="100076″]