Captain Rex suits up in his Phase II armor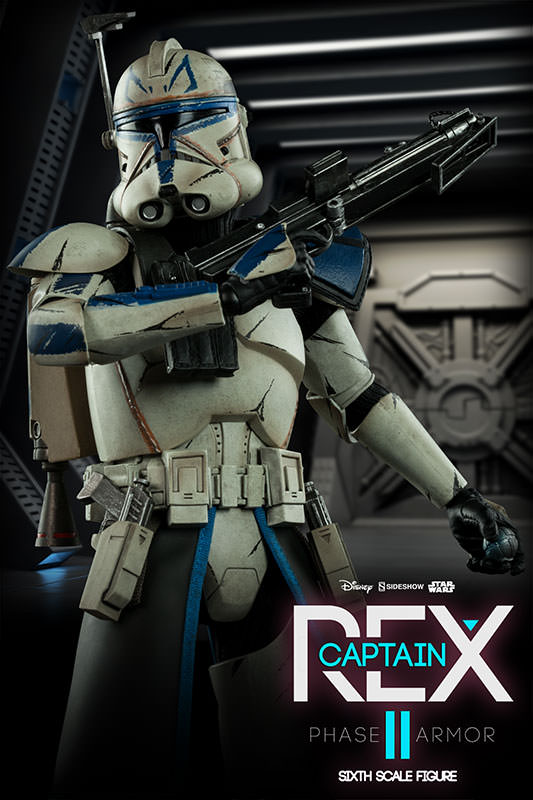 Everyone loves Anakin, Ahsoka, and Obi-Wan, of course, but it's impossible to forget that the real heroes in The Clone Wars are, well, the clones. Among those brave soldiers of the Republic, none has stood out quite like Captain Rex.
A series-long fan-favorite, with a tough demeanor and wicked cool armor, the honorable leader of the 501st is true blue. And while we have watched some of our favorite clone comrades fall, Rex has survived encounters with plenty of formidable enemies, including droid commandos, a fallen Jedi, and Asajj Ventress. With his fate yet to be determined in the final episodes, Captain Rex is certainly the clone to keep an eye on.
Ready to lead the charge, Captain Rex shuns standard upgrades for his highly customized gear with Sideshow's Captain Rex Phase II Armor Sixth Scale Figure.
[store-items skus="100222,1002221″]
Never one to follow the crowd, Rex's Phase I bucket boasts blue jaig eyes, a Mandalorian badge of courage, along with a rangefinder and other welded modifications. Often faced with danger in the line of duty, numerous tally marks along the seasoned fighter's helmet and armor paint a vivid picture of his victories in battle.
Decked out in his signature grey pauldron and kama, Rex takes the battle to new heights with his propulsion jetpack. He's fully equipped to take down enemies dual-wielding his signature twin blasters, while packing a carbine blaster and droid popper for backup.

Sideshow Exclusive Edition
The Exclusive version of this figure will include a display base with a character specific themed design (shown right).
Despite his unusual individuality as a clone, there is no doubt that Captain Rex is loyal to his fellow troopers, and always puts the mission first. He is an invaluable asset to the Republic, as well as any Star Wars: The Clone Wars collection.
Both the regular and Exclusive editions of Captain Rex will be priced at $169.99, with optional payment plans available. Preorders begin this Thursday, February 20th.