https://www.sideshow.com/collectibles/6452
Want $15 off?
Sign up for the newsletter
Be the first to know
Sign-up for text alerts
Amazing
August 10, 2020
Sorry for all the people who missed out. This piece is amazing
5
WOW!!!!
October 10, 2012
THIS FIGURES IMO IS THE BEST HOT TOYS FIGURE EVER!!! I LOVE IT SO MUCH.. I CAN'T WAIT TO GET THE 1989 BATMOBILE. WHOM EVER DIDN'T BUY THIS FIGURE MISSED OUT BIG TIME!!
2012-10-10 16:09:12
23 years, worth the wait
September 3, 2012
I have waited many years for a figure of this incarnation of Batman to be made. From the points of his bat ears to the tips of his bat boots, this figure simply IS Michael Keaton's Batman. If you don't own it, get it! You will not be sorry. If you are over 35 years old, it is required.
2012-09-04 20:05:23
Love this Batman!
July 16, 2012
Everything about this figure is amazing. Well done on the suit. Can't wait to pose him with his car!
2012-07-16 18:49:10
I am reliving my childhood all over again :D
July 13, 2012
This was just too much to ask for... Amazing detail~!
Overcome with acute nostalgia right now, haha.
Thanks so much!!!
2012-07-16 18:52:39
batman1989
June 26, 2012
excellent figure detail great it's virtually a mini keaton cannot wait for my joker.excellent work again from hot toys and sideshow
2012-06-26 15:33:19
Honey, I shrunk the Keaton...
June 21, 2012
Opening and assembling this brilliant figure took me back to being a 15yr old kid in 1989 who couldn't wait to see Batman. I love the new movies but to me, this is still the definitive on-screen Batman. Many thanks to the awesome service from Sideshow. Ordered Fri PM and arrived Tues AM in the UK.
2012-06-21 23:46:41
Amazing!
June 13, 2012
Received just today and all I can say is WOW! Amazing details and best Batman figure ever. Well worth the wait.
2012-06-13 15:41:16
"...and I have to go to work."
June 11, 2012
Out. STANDING!! In my opinion, one of if not the GREATEST figure ever produced. The likeness of Michael Keaton's face is brilliant. The molding of the suit, the cape, the accessories, everything is just top notch detail. WARNING: if you purchase this figure then prepare to purchase The Joker as well
2012-06-11 16:56:48
You Wanna Get Nuts? Come On... Lets get Nuts!
May 29, 2012
This figure is Fantastic! This is the best Batman figure on the market! The Michael Keaton/Batman Head sculpt is suburb and the accessories are great!. Get this Batman! He looks amazing next to the Jack Nicholson Joker Figure!
2012-05-29 21:08:43
This is the figure I have been waiting for!!!
May 26, 2012
Words cannot discribe the emotions I felt as I opened my figure up for the first time. If you loved the 1989 Batman movie YOU NEED THIS FIGURE in your collection. The detail is crazy almost museum quality. I am so glad I purchased this figure. Thank you Hot Toys and Sideshow collectibles.
2012-05-29 21:12:24
The Batman
May 26, 2012
This will always be my favorite, to me its already a classic. The likeliness is uncanny, the box it came with is awesome & easy to open & the stand is pretty cool. All in all this version is pretty awesome. Thanx SSC
2012-05-29 21:10:49
BATMAN KEATON THE BEST
May 23, 2012
WHEN I GOT THE FIRST ONE,I JUST TRIP OUT,I TURNED AROUND AND GOT ONE MORE ,FOR SAFE KEEPING.BUY 2 NOT 1 IF U CAN
2012-05-23 16:24:42
I want you to tell your friends about me..im Batma
May 20, 2012
I always thought Michael Keeton was the one that brought Batman to the level that the character should have been seen. This figure comes with all his wonderful toys as the joker would have said. Hot Toys has done M K justice. I can't wait till the bat mobile comes out.
2012-05-21 15:50:27
Hot Toys Nails It!
May 17, 2012
If you grew up loving this portrayal Batman, this is the figure for you! Hot Toys perfects the Keaton sculpt capturing the timeless introduction Batman as a darker grittier movie medium. I could not stop myself from humming the theme song the entire time I was unboxing this figure. You'll love it.
2012-05-17 17:08:29
WOW!!!
May 12, 2012
Simply unbelievable. Teres not much else to say, its Hot Toys best figure to date, im sure the Nicholson Joker will be as great and even surpass it, amazing in every aspect. Buy it you wont be sorry.
2012-05-14 18:18:51
Get the Batman...NOW!!!
May 11, 2012
When I saw this figure I was pleasantly surprised. The amount of details on this figure is surreal. Now I have to wait for the 1989 Batmobile.
2012-05-11 18:44:08
My second BATMAN '89 Figure.
May 8, 2012
Is this the best ever figure from SSC/Hot Toys? I think it may just be. The Bat has always been my favourite. This is a superb figure with the most deserving use of PERS to date. Maximum BAD-ASSery to be had.
2012-05-08 23:12:30
Keaton IS Batman
April 28, 2012
I was young boy of 11 when the first Batman film hit theatres in 1989. For me, Keaton's performance as Batman has never been topped. That said, I've been waiting over 20 years for a proper Keaton/Batman figure to be made. I'm here to tell you: THIS IS IT!
2012-04-30 18:56:08
Keaton Batman Figure
April 28, 2012
2012-04-30 18:57:21
AMAZING
April 27, 2012
The detail is beyond superb on this figure and the likeness to Keaton is uncanny. Hot Toys has set the bar high with their products. I HIGHLY SUGGEST that people should have this as part of their collection. Get it now through Sideshow before somebody else does and sells it at a HIGHER PRICE.
2012-04-27 22:25:04
ABSOLUTE MUST HAVE!!!!
April 27, 2012
If you dont have this batman by now,you dont know what you're missing. This batman is an absolute masterpiece perfectly detailed even down to the smoke pellets. It looks even better next to the Christopher Reeve Superman!!
2012-04-27 17:49:25
This is MY Batman
April 25, 2012
I remember going to the cinema as a kid to watch Batman in 1989. This movie has always been the standard to how Batman would be judged in my mind from then on. This figure is a perfect representation of the Keaton Batman. PERFECT.
2012-04-26 18:33:07
89' Batman
April 18, 2012
Great figure, very well made. Keaton dead on. Looks better in person!
2012-04-19 22:34:13
Simply Awesome
April 18, 2012
This figure is beyond belief. The detail is awesome. Grab it before it's completely gone.
2012-04-19 22:34:42
I'M BATMAN
April 17, 2012
Just ordered mine last night can't wait to get it I'm a huge Batman fan of the 1989 movie,I'm doing payments so I gotta wait until June to get it,the other review's on here sound like it's a true masterpiece,so I can't wait to get mine!!!!!!!!
2012-04-19 22:34:58
Batman 1989
April 17, 2012
First I must say that I received my Awesome Batman Figure, and WOW what amazing detail went into creating this piece, its like having Michael Keaton shrunk down to 12" size : ) I love this figure its standing on my shelf next to my Christopher Reeves Superman, Awesome job Hot Toys/ Sideshow!!!!!
2012-04-19 22:35:13
THE BATMAN!
April 9, 2012
Unequivocally the best Batman Hot Toys figure to date! The likeness to Keaton is downright spooky. The costume is perfectly designed and it literally looks like he stepped out of the movie into your living room! Poses look striking! Fierce attention to detail. BRAVO HOT TOYS!! THANK YOU!
2012-04-10 18:03:02
Mmm...
April 9, 2012
2012-04-10 18:03:59
BATMAN 1989
April 7, 2012
i am going to sell off a lot of figures so i can buy more of this one. BEST figure ever. Loved the movie. LOVE THIS FIGURE MORE! ONLY WISE I COULD OWN THE LARGER VERSION. TRUST ME it is a good as the photos
2012-04-10 18:01:12
I AM THE NIGHT!
April 7, 2012
This is the first HT DX figure that I've purchased,& I'm totally blown away by the sheer awesomeness of this release.The attention to detail from the gadgets to the likeness & outfit are extroidinary.My satisfaction went out of the park on this one.Bring on the Batman Returns version next.
2012-04-10 18:00:41
THE Dark KNIGHT
April 6, 2012
A AMAZING WORK OF ART ..I am so happy with him and reeves superman together on one shelf...NOW BRING ON GREEN LANTERN and help us WITH this AMAZING JUSTICE LEAGUE....
2012-04-06 21:46:10
Best. Batman. Ever.
April 5, 2012
The likeness to the great Michael Keaton is absolutely STUNNING. There was no detail left untouched in this magnificent piece. It's not just a figure... one could even call it an honest-to-goodness statue.
2012-04-05 18:02:03
WOW!!! THIS IS KEATON/BATMAN
April 4, 2012
NO DOUBT ABOUT IT! IF THE SKIN COLOR WAS JUST A TAD MORE MATTE THIS FIGURE WOULD BE BEYOND CREEPY REAL LOOKING, WITH THE "PERS" YOU CAN REALLY MAKE UP FOR LACK OF HEAD MOVEMENT DUE TO THE "AWESOME COWL"! SADLEY, THE METAL CLIP IN THE REMOVABLE HEAD PIECE CAME UNGLUED AND STUCK TO THE MAGNET, "WHAA!"
2012-04-04 23:44:17
BATSPIRATIONAL !
April 4, 2012
2012-04-04 17:31:04
The Best Bat!!
April 3, 2012
A truly gorgeous package...., the box, contents and everything shout 'quality'...! Possibly the best Batman figure ever produced of possibly the best movie Batman. It was worth the wait - right on Sideshow/Hot Toys!!
2012-04-03 21:08:26
How much better can it get...?
April 3, 2012
I thought that the recent SUPERMAN figure was as good as SCC/HT was going to get. I was clearly wrong! BATMAN is just the BEST! The face sculpt is like a real person's face.

This is just an ace figure. Buy it before it vanishes!
2012-04-03 17:12:21
"The Batman"
April 3, 2012
A truly amazing figure, extraordinary detail from top to bottom. Batsignal pic is very cool. After waiting months, its a great addition to my collection. But, after a one day the lights in the base do not work and wiring in the cape poked through. What's the deal Hot Toys/Sideshow?
2012-04-03 17:05:16
IM BATMAN.
April 2, 2012
SO AWESOME BEEN WAITING WAY TO LONG FOR THIS MASTERPIECE.THANKS AGAIN HOT TOYS/SIDESHOW FOR IMPORTING THE GREATEST 1989 BATMAN PIECE OF ALL TIME.BUY ONE ASAP FOLKS BEFORE THERE 3 TIMES THIS PRICE ON THE WEB.MUST SEE IN PERSON TO REALIZE HOW BAD A-- THIS FIGURE IS.SUPER HAPPY WITH MY PURCHASE.
2012-04-02 23:05:22
Batman (1989 Version) DX Series Sixth Scale Figure
5
39
39
Tabletop View — Batman (1989 Version) DX Series Sixth Scale Figure
12" (304.8 mm)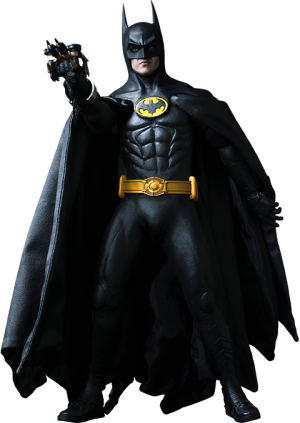 Scale is approximate and should be used for rough comparisons only.