https://www.sideshow.com/collectibles/4758

How big is this collectible?
View size comparison
Sideshow Exclusive
Kryptonite neck chain.
About This Sixth Scale Figure
Amid high anticipation, Sideshow Collectibles and Hot Toys are proud to present the Superman 12-inch Figure from the 1978 classic superhero film Superman. The movie-accurate Superman collectible is specially crafted based on the image of Christopher Reeve as The Man of Steel, highlighting the authentic head sculpt, movie-accurate costume and figure stage imitating the Fortress of Solitude.
Additionally, Hot Toys Limited will be donating a portion of this collectible figure's sales to the Christopher & Dana Reeve Foundation. The Reeve Foundation is a charitable organization dedicated to curing spinal cord injury by funding innovative research, and improving the quality of life for people living with paralysis through grants, information and advocacy. Hot Toy's hopes to contribute to the foundation and the injured through the enjoyment of collectible figures.
For more about the organization, please visit:
http://www.christopherreeve.org
Brand

Manufacturer

Type
Artists
Additional Details & Dimensions
Materials
Product Size

Height: 12" (304.8 mm) | Weight: 3.00 lbs (1.36 kg) *

Box Size

Height: 6.00" (152.4 mm) | Width: 18.00" (457.2 mm) | Depth: 18.00" (457.2 mm) | *

Dimensional Weight

9.00 lbs

(4.08 kg) [Intl. 12.00 lbs (5.44 kg)]

*

* Size and weight are approximate values.
Learn more
SKU

9013901
TM & ) DC Comics

How big is this collectible?
View size comparison
Want $15 off?
Sign up for the newsletter
Get $10.50 back!
Earn 5% in Sideshow Rewards.
Learn more
Shop with Confidence
Award-winning customer support with a 30-day guarantee.
Find out why
"Easy Miss I Got You" Christopher Reeves-
April 3, 2013
The first Movie I remember watching as a kid. My goodness I can still remember holding that popcorn sitting by my dad(God rest his soul) n watching the people in that jam packed theatre stand up clapping and cheering when Superman rescued Lois in the falling Copter. Thank U For this Awesome piece!
2013-04-03 16:16:13
Possibly Hot Toys' Finest Figure!
March 17, 2012
This is a superb figure in every respect! The likeness of Christopher Reeve is dead-on and the quality of the outfit is outstanding! The one problem I have is the Fortress of Solitude figure stage-- the crystal spires don't fit very well into the corresponding slots on the base.
2012-03-21 20:59:45
Super Toy for Super Man, Super Reeve!
February 18, 2012
i can't find any better words to describe this figure! amazing details, look alive...too good to be true! unfortunately, i don't get the krypton necklace limited edition, but it's ok... my last words: Hail Mr. Reeve, you are truly, the Real Superman!
2012-02-20 21:44:00
AMAZING!!!!!!!!
February 1, 2012
I simply cannot believe the detail in this stunning figure. Truly amazing conversation piece. Mr.Reeve would be proud of this figure. I cant stop looking at it, its AMAZING!!!!!!!!!! Best of the best, nothing can even come close to it.
2012-02-03 00:39:38
What!? Not sold out yet!???
January 20, 2012
If you like Superman,great toys, and can afford it, do yourself and the Reeves Foundation a tremendous favor and buy this figure. A great figure for an even greater cause and when placed beside my other 1/6 Superheroes Supes wins everytime. It is truely a great tribute to the late Chris Reeves.
2012-01-20 20:03:49
A true portrait of a Hero!
December 25, 2011
Any Superman fan or comic fan, this piece is a must have! An extraordinary piece, in every way, shape and form, a perfect 10+. It is the crown jewel of my collection. The only downside to this piece is the Fortress of Solitude stand, hard to put together & it should've lit up.
2012-01-05 00:55:22
Theres only one Superman - Christopher Reeve
December 17, 2011
I can't believe I was able to get this . This one did not disappoint and to make the box turn into a Superman display was pure Genius! The only remark that I would have liked with the exclusive version was a replica lead chest to hide or display the Kryptonite in. This is the best ever Superman!!!
2011-12-21 00:15:41
Christopher Reeve is STILL Flying High.
December 15, 2011
Thank you Hot Toys and Sideshow Collectibles for giving us customers our dream Superman. When I was a kid I always wanted a C.R. version of Superman and now thanks to you guys I now have this one. I love the details and the tight costume. He's my favorite HT figure I own. Keep'em coming!!!!
2011-12-16 18:19:21
Best action figure ever!
December 14, 2011
Easily best Superman figure, and really best action figure ever PERIOD. Likeness to Reeve is amazing! The box it comes in is even a work of art. My only complaint is the battle I had to get the Kryptonian crystals into their stand.
2011-12-16 18:17:12
Cue John Williams' score...
December 14, 2011
Cristopher Reeve made me believe a man can fly and so does this figure. Legendary epicness, a most awesome likeness to the well missed actor.
2011-12-16 18:16:55
Spot On for Hot Toys!
December 14, 2011
This is the very best likeness of Christopher Reeves! Sideshow has presented a sure-fire winner!!! Hope to see more from Hot Toys Superman line! Thank You for presenting the very best SUPERMAN!
2011-12-16 18:16:36
A TRUE HERO!
December 12, 2011
C'mon, any guy who sends half of his paycheck home to his foster mother has to be the man! What a great and well executed collectible. The packaging is even awsome. Spot on in every which way!
2011-12-16 18:14:13
The best figure I have EVER owned!
December 12, 2011
This has got to be the best figure I have ever owned. It was worth every penny that I paid. His likeness is on point, as are the accessories. I cannot wait to see what they do when Man Of Steel comes out.
2011-12-16 18:13:48
Great Figure, ok stand
December 11, 2011
The figure is wonderful, glad I got one, the necklace is just ok, and the stand...the fortress of solitude falls apart...sad for so much money, hope it goes to Reeves foundation
2011-12-16 18:12:48
Best Superman...Ever...!
December 6, 2011
This is Superman! Without a doubt no other actor can ever bring life into the son of Krypton like Christopher Reeve...RIP. Anyone that likes Superman must, and I mean,must, get this! The figure is the best unfortunately, like most I got a faulty Fortress of Solitude. Other than that,this is a must!
2011-12-07 19:54:52
Superman Hot Toys
December 6, 2011
This figure has an incredible likeness of Christopher Reeve, it is spot on!! The exposed neckline is sculpted brilliantly. One complaint -the cod or red underwear piece on mine was too small and rides up in the back.
2011-12-07 19:56:24
Good First Impression!!!
December 6, 2011
This is my first Hot Toys figure and I have to say that I'm extremely impressed with this work of art. I knew if it looked anything like the photos that I would be happy, but one surprise that was not expecting was the beautiful collector's box that the figure came in. A must own for any fan!!!
2011-12-07 19:56:12
SIMPLY AWESOME!!!
December 6, 2011
Hot Toys has hit this one out of the park! The head sculpt looks amazing! Christopher Reeve will always be remembered, thanks to this wonderful tribute. If you don't get this figure you will be kicking yourself when he is sold out. BUY THIS FIGURE! YOU WON"T BE DISSAPOINTED!!
2011-12-07 19:55:47
Fantastic Figure!
December 5, 2011
This figure truely pays homege to Christopher Reeve as Superman. I am displaying the box as well since it is so beautiful. Christopher Reeve will always be remembered for his role as Superman!
2011-12-05 17:29:54
is a plane is a bird...is a toy...is SUPERMAN!!!
December 1, 2011
OH my GOD...this is astounding..really no words!...amazing gift for the whole collection.. this is indeed a tribute to Mr. Reeve and the Superman saga..this will be remembered!...I read another guy's comment on making the whole cast...I'd go for Ms.lane...thumbs up! amazing piece of work..keep it up
2011-12-02 01:03:09
Iconic Masterpiece for an Iconic Character
December 1, 2011
Gorgeous from all angles and is nearly a perfect posing piece. For a 1:6 scale collector this figure is as significant as Babe Ruth is to baseball.
2011-12-01 19:12:13
A Must have for all Superfans
November 30, 2011
This figure is Epic in how accurate it is when it comes to the head sculpt. From the moment you open the box, you will be Wowed!!! It definitely takes you back to your childhood. This is a must have and an excellent tribute to the late and always great, Christopher Reeve. So glad I got this!!!
2011-12-01 00:52:11
Stunning
November 28, 2011
I received my Superman today and never before has the prefix of super been more appropriate. This is the best piece I own. Everything from the boots to the head sculpt is perfect to the Reeve original and is presented in an awesome display box. You need to buy this one!!!
2011-11-29 16:43:27
Superman: Hot toys exclusive
November 27, 2011
This is one of the best figures Hot Toys has produce to date. Detail ( incredible), costume (amazing), over all product: breathtaking.. Yes, it is overprice by 20-30 dollars, hopefully that goes to charity.Also, no free shipping on exclusive..However, I am so happy I purchase this figure. *****
2011-11-29 16:48:33
Superman is the man
November 25, 2011
What are you waiting for. Order it now it is the best Hot Toys figure to date thanks Sideshow.
2011-11-29 16:47:11
Its Super!!
November 24, 2011
Very nice looking figure, dead on likeness to Christopher Reeve. However, the fortress of solitute base is very cheap and is hard to assemble, the pieces are hard to snap in place to the point they have to be glued to keep them from falling down.
2011-11-29 16:42:44
AHHHHH-MAZING!!!!!!!
November 23, 2011
This stunning piece is an absolute breath-taking masterpiece of craftsmanship. The facial sculpt accuracy surpasses even the very best life-size wax museum versions. This is truly a wonderfully accurate representation of the man who made us all believe a man could fly. Outstanding work hot toys!
2011-11-29 16:41:54
Incredible is the only way to describe Hot Toys Su
November 22, 2011
Not to knock George Reeves but Christopher Reeve's Man of Steel will be forever remembered and now immortalized as Superman. This is another must have for your collection & support research to cure spinal cord injury to boot. It's Win/Win.
2011-11-22 22:20:29
Every angle looks like Reeve
November 21, 2011
Much better than what the pictures show. As a Fan I think it looks exactly like Christopher Reeve in part 1. This is the best figure i will ever own for sure. Please make Gene Hackman Lex, and Terance Stamp Zod, PlEASE make the Entire Cast! Thanks
2011-11-21 17:01:44
Incredible Piece from Packaging to the Figure!
November 20, 2011
I am blown away in the incredible packaging! Hot Toys have now set the boundaries on how their products should be shipped. We knew what to expect in the Superman, but it always amazes us how much of a likeness they bring to their pieces. A true tribute to Christopher Reeves and the best Superman!
2011-11-21 17:01:17
Meet the new center piece of my collection
November 20, 2011
The definition of a masterpiece. The product photos look good, the model displayed at SDCC looked better, but upon opening, I was swept up, up and away by it's detail exceeding my highest expectations. Thank you Hot Toys for this figure and for supporting the Christopher & Dana Reeve foundation.
2011-11-21 17:00:57
The greatest Superman figure ever!!!!
November 19, 2011
This has to be the most incredible Superman figure ever made! As someone who saw the film when it first came out in 1978 this Christopher Reeve Superman figure is the most incredible, amazing figure in existance!! I waited 33 years for owning the best Superman figure out there, and now I have it!!!
2011-11-21 17:00:34
One Of The Best Movie Figures Ever
November 18, 2011
This is truly a great figure. The attention to detail and the likeness to Christopher Reeves is unbelievable. My suggestion to all is...get this one now. I guarantee that you will not be disappointed.
2011-11-18 22:51:22
This is THE one to have!
November 18, 2011
This arrived this morning. Everything about it is excellent, the cape, the costume, and have you felt the texture of the boots?! As for the face sculpt, and in-box tribute, class in a box. That box, with its own Kryptonian styled card stand, the best ideas really are the simplest. Thank you!
2011-11-18 22:51:15
Wonderful Tribute To Christopher Reeve
November 18, 2011
I'm so glad I own this great figure! Hot Toys continues to produce the most amazing collectible figures and Superman is no exception. Even the box deserves to be displayed! Mr. Reeve's portrayal of The Man of Steel will always be my favorite and I will display this figure with great pride. Love it!
2011-11-18 22:50:47
One of the BEST Hot Toys figure
November 17, 2011
This is one of the best Hot toys figure I own yet.The details on this figure are amazing!
2011-11-18 00:19:43
Superman Sixth Scale Figure
5
36
36
Tabletop View — Superman Sixth Scale Figure
12" (304.8 mm)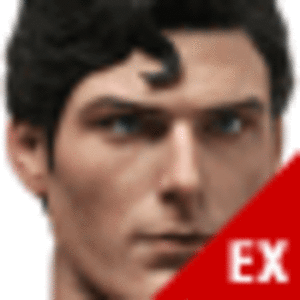 Scale is approximate and should be used for rough comparisons only.