https://www.sideshow.com/collectibles/4661
Want $15 off?
Sign up for the newsletter
Be the first to know
Sign-up for text alerts
Aces (redux)
March 4, 2019
Boba Fett is my favorite movie character and my best friend surprised me with this gem. So much detail and his accessories are insane! By far, my favorite Sideshow Collectible yet!!
Aces
September 29, 2016
Boba Fett is my favorite movie character and my best friend surprised me with this gem. So much detail and his accessories are insane! By far, my favorite Sideshow Collectible yet!!
2016-09-29 15:28:14
August 20, 2013
2013-09-24 17:53:42
AWESOME
August 13, 2013
Ist Sideshow purchase a Fett fan since i was a kid and this did not disappoint. My only complaint is the clips that hold his jet pack should have been metal or magnets, but overall awesome. Next VADER:)
2013-09-24 18:00:19
So Cool
August 3, 2013
Amazing figure, great details. if you don't own him buy him! you will not be disappointed
2013-08-06 23:42:09
He's no good to me dead!
July 29, 2013
Love this 1/6th scale replica of the most fearsome bounty hunter in the galaxy. Incredible level of detail and very pose-able. The light up base is a nice touch. My only complaint is that his left arm isn't as articulated as his right. Otherwise it's a high quality piece.
2013-07-29 17:22:53
Life Like Detail
May 31, 2013
My first Sideshow purchase, and the detail is amazing. I took a picture of it, and it looked like a still from the movie. Thinking about getting a Green Screen to mess with it. Collecting these is going to be my new Expensive Hobby, can't wait for my Vader to get here next year.
2013-06-04 00:14:03
Definitely Boba Fett from ESB!!!
April 5, 2013
I ordered Boba a couple of weeks ago and used a St. Patty's code. Returned home to open him up and all I can say is WOW. The amount of detail and things he comes with is out there. The paint,Cloth,Light up base. So much great things. My Jetpack came defected with missing hook but SS will replace.
2013-04-05 17:17:46
Impressive!
March 31, 2013
Fett has lots and lots of extras. The base lights up too. It is worth every penny! The details on him are amazing, and even the equipment has lots of details, way more than I expected. It looks a lot more awesome in person than in the pics. I was pleasantly impressed and amazed!!!
2013-04-01 16:16:23
Simply Amazing!!!
March 26, 2013
Having just caught the Sideshow bug, I'm glad Boba was one of my first purchases, because he is just stunning. The details are great and all the extras to personalize him to your liking are super. I can not wait to see the other items I've pre-ordered!!
2013-03-26 15:48:32
LOVE IT!
March 24, 2013
This figure is one of the sickest figures I own and I love it! The details are spot on, the likeness is there, and the quality is top notch. I'm wanting to buy a second so I can make a ROTJ version. 10 stars if I could!
2013-03-25 15:52:34
Hes no good to me dead
February 28, 2013
Epic. Now for a Jango to go with him!
2013-03-04 22:36:16
A Must Have!!
January 21, 2013
I bought this as an extra as I have been collecting super hero figures. But this seems to be the best so far, It is stunning to look at. It is much better in hand than to look at online. The figure is stunning and the base that it stands on gives it that finished and professional finish.
2013-01-21 21:47:47
He's no good to me dead!!
November 14, 2012
This by far is my best 12 inch figure yet, Hands down! The ammount of work that went into this just mindblowing! As one of the reviewers said, now that we have the ESB, gimme ROTJ Fett!! Cant wait.. Awesome work guys!
2012-11-16 20:28:50
Perfect guarding Han on Ice
October 5, 2012
I've had my Fett now for a bit now, & can't stop looking at him. I have him standing guard next to my Han in Carbonite 6th scale. Perfection! Sideshow, you guys make it so hard to save money, but your work is so good I seem to not care.
2012-10-05 16:44:27
Fett Rules !!!
August 7, 2012
Man i just love this figure. i usually just do a set it & forget it when i put up my 1/6th scale figures, only rarely switching poses. but with fett i seem to reposition him everyday, because he looks great no matter how you pose him. funnest futzing figure yet. thanks ssc !!
2012-08-07 20:17:41
Best 12inch Boba Fett ever? Absolutely!
July 29, 2012
My brother pre-ordered one for himself & I as a gift during some rough times & it's made my month! I'm a life long SW collector, collecting only the highest quality, limited/rare items & this figure is just unreal! I'm so impressed that my wife & I plan to buy the ENTIRE Sixth Scale Star Wars Line!
2012-07-30 15:34:15
The Mandalorian is AWESOME
July 28, 2012
I just recieved mine today, and when I opened the box I was in shock because of the likeness.

2012-07-30 15:33:21
Fantastic Fett!
July 27, 2012
I've had my Fett for a couple of weeks now and I still can't help but gaze at his awesomeness whenever I walk by! The detailing on this is amazing, from the armour to the fabric clothing to the cool light-up base...and the weathering, scrapes & dents applied to it all! Fantastic work, SS!
2012-07-27 22:51:21
Everything I hoped for!
July 27, 2012
I received my Boba Fett figure today and I couldn't be happier! The detail and craftsmanship are amazing and all the included extras really help to showcase him. I will definitely be purchasing from Sideshow again!
2012-07-27 15:51:22
A MUST FOR ANY BOBA FETT FAN
July 20, 2012
Sideshow does not disappoint with this figure! Great articulation, plenty of accessories, great artistry, great detail, and it looks fantastic!!! Get it now!
2012-07-20 23:17:05
He's Worth A Lot To Me!
July 19, 2012
Words won't do this justice.Extremely well done for his first 1/6 scale debut.The light up base fits perfectly.Get one & see.
2012-07-19 17:45:44
the bounty hunter has arrived!!
July 17, 2012
well i received my boba and it's a great figure! i was pleasantly surprised after seeing initial images of poorly posed boba fetts on the internet. people, this is the best fett out there!!
2012-07-18 22:22:00
Worth it!
July 16, 2012
I wasn't sure if I'd get this, but now that I have it, I'm very glad I ordered him! The detailing is fantastic. The fabric jumpsuit with its many pockets is awesome, as are all the little details. The many accessories are great, as are the weapons, and the light-up base completes it. Get this! :)
2012-07-16 18:49:59
Knocked it out of the park!
July 15, 2012
Another homerun for Sideshow!!! Boba is ready for action with all his accessories included and a terrific stand to display him.
2012-07-16 18:50:10
one of sideshows best !
July 12, 2012
got my fett few days ago very very pleased with this one. So many poses to choose from...gauntlets are amazing!!!
2012-07-12 16:47:13
Finally !
July 11, 2012
THE Boba Fett is here ! Most impressive and a lot of details. A must have in any collection !
2012-07-11 16:16:58
Best Fett yet.
July 11, 2012
If you are not sure if you should pick this figure up, rest assured Boba Fett is worth every penny. This figure is a highly detailed piece of art, complete with a light up stand. If you are a Fett fan or even just a Star Wars fan this is the best 1/6th scale Boba Fett ever made.
2012-07-11 20:53:26
Boba Fett is finally here!
July 10, 2012
Received my Fetts today. Very impressive indeed. Packaged in big boxes with loads of accessories to complement Boba on his quest to capture Solo. The bounty hunter line is quite remarkable thus far. Now that we have the ESB version, bring on ROTJ Boba in all his glory! Keep up the good work Sideshow
2012-07-10 23:33:42
Boba Fett Sixth Scale Figure
5
29
29
Tabletop View — Boba Fett Sixth Scale Figure
12" (304.8 mm)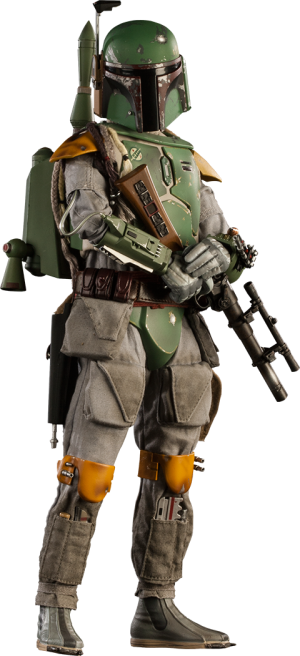 Scale is approximate and should be used for rough comparisons only.