https://www.sideshow.com/collectibles/7277

How big is this collectible?
View size comparison
About This Sixth Scale Figure
Brand

Manufacturer

Type
Artist
Additional Details & Dimensions
Materials
Product Size

Height: 12" (304.8 mm) | Weight: 1.00 lbs (0.45 kg) *

Dimensional Weight

3.00 lbs

(1.36 kg) [Intl. 0.00 lbs (0 kg)]

*

* Size and weight are approximate values.
Learn more
SKU

21151

UPC

747720208230
(c) 2008 Lucasfilm Ltd. & TM.

How big is this collectible?
View size comparison
Want $15 off?
Sign up for the newsletter
Get $2.75 back!
Earn 5% in Sideshow Rewards.
Learn more
Shop with Confidence
Award-winning customer support with a 30-day guarantee.
Find out why
THE SITH WILL RULE AGAIN.....
June 24, 2011
THE ONLY COMPLAINT IS HE LOOKS AWESOME IN ANY POSE ...MY FAVORITE SERIAL KILLER THIS ONE MAY MAKE YOU FRUIT LOOP OUT OF YOUR MIND WITH DETAIL.....
2011-06-24 22:05:23
B E A U tiful figure! one question
September 8, 2008
i just started collecting SS figures and the result is always flawless. my first figure was the exclusive qui-gon jinn which is my absolute fav.anyway.how do u say he has every litesaber posibilty when the damaged hilt cant hold a blade? i mean can it hold one? or is it just my figure?
2008-09-08 15:24:42
darth dead
May 1, 2008
love product hate fact he died in movies wish he came with droids instead of buying them seperate
2008-05-02 15:15:53
Hangin' loose...
September 20, 2007
A single loose-ish joint keeps mine from being a perfect 5. The robe takes a bit of work to keep it from looking sloppy and toy-like, but the end result is worth the effort. A very well-done figure.
2007-09-20 17:26:25
It sure re-evaluates my idea of collecting figures
February 4, 2007
I started off collecting 4 inch rebel pilots and decided I would just stay with that to keep my collection to a minimum. Then I saw the Sideshow website and 12" Darth Maul & it blew me away. Now I'm expanding my collection to just 12" Jedis & Siths. You made me one happy collector.
2007-02-05 16:01:46
Darth Maul
February 1, 2007
Beautiful.........I love the detail, the sith robe, lightsabers, display stand, and interchangeable hands that the figure comes with. The Darth Maul Sideshow Inclusive is the best SW figure I have
2007-02-01 16:55:17
best collectible
January 17, 2007
I have many SS figures, PF and 1/6 scale.This Maul even rivals the 1/1 scale bust that I have. Every review that I've read is right that the scult is awsome and you can put him in any pose with any accesory. If you buy any SS figures, this is the one,, almost(Darth Vader PF)!
2007-01-17 16:07:13
GREAT! Just one small articulation issue....
January 12, 2007
VERY well done! However, and I'm sure this isn't a general problem, but there were a few loose joints on my figure (mainly the joint in the middle of the bicep) that made it difficult to hold his saber. A bit of a bummer, considering the great paint and sculpting, but fantastic job nonetheless!
2007-01-12 16:46:36
DETAIL! DETAIL! DETAIL!
January 7, 2007
I got this baby a lttle late, post christmas, but it was worth the wait. An UNBELIVABLE sculpt ripe with detail. from the broken saber, to the intricate tattoos, the costume was elegantly constructed complementing the amazing sulpt. GET this, even a small earing in his left ear at the top is there!
2007-01-08 16:56:40
Darth Maul...Deadly Accurate!
January 4, 2007
Holeesandcrawlerz!!This is the most detailed rendition of Maul 2 be done. The design is so flawless that if we took paint remover and took Mauls make up off ,we would find Ray Park himself! Hasbro sculpters should be ashamed of themselves and bow to Sideshowz talent!Whoz next?!Bring on the Sith!!!!!
2007-01-04 16:09:34
1.6 maul
December 30, 2006
It is without a doubt .....The Best Star Wars doll ever Produced . The only one that gets in my opinion ...a 5 out of 5 RATING . Its Flawless . The Likeness , The Articulation , The Robe , The 2 Different versions of the saber ( the battle damaged version ...made it all worthwhile for me .)
2007-01-02 16:00:09
Best one yet!
December 26, 2006
While I haven't been overly pleased with the Star Wars line (this is only my second one), Maul is perfect. Frankly, if you aren't satisfied with this terrific product, then you can't be satisfied, period. Bravo, Sideshow!
2006-12-28 16:30:43
Whoa!!!!
December 21, 2006
When I came home from work and saw the Sideshow box on the kitchen table, I hurried to open it to see what I got. Once I got a glimpse of what it was, I dropped to my knees and looked north toward Thousand Oaks Ca, and gave thanks to Sideshow for sending me this totally awesome Darth Maul figure.
2006-12-21 15:57:40
Holy $#!+ !!!!!!!
December 17, 2006
If you wet yourself over 1/6 scale perfection, you'll be complaining this figure didn't come standard with rubber undies! SS hit Ray Park with a shrink ray in all his Darth Maul elegance and mailed him to me. Every detail's here, from horns to dual/Obi-sliced saber. All I can say is, HOLY...........
2006-12-19 16:05:17
Dark Lord of the Sith...
December 16, 2006
I just received my figure today. Way better likeness than the hasbro 12" figure. You won't be disappointed.
2006-12-16 00:49:11
WOW!
December 16, 2006
Just received mine today and I must agree with the others that this is an awesome product with one of the best head sculpts I have seen. Well worth every penny. Thanks.
2006-12-16 00:31:25
Darth Maul is Awesome!!!!
December 15, 2006
This is the best birthday present I have ever received!!!! The figure looks so realistic. By far this is my favorite collectible to date. I can't wait to add the Sith probe droids in '07. Thanks Sideshow!!!!
2006-12-15 16:10:09
Maul
December 13, 2006
PERFECT!!! Flawless, that what this figure is. Not only the best 12" Star Wars figure you can buy, but one the best 12" SS figures I own. Just amazing!! Perfect in every way!
2006-12-13 16:08:24
At last we will reveal ourselves to the Jedi...
December 11, 2006
The best Sideshow 12 inch figure I own. The figure is perfect, fabrication is outstanding, Oluf's sculpt dead on, paint apps flawless. 2 additional hands and every possible lightsaber option, a must own for Star Wars fans. Get this figure, you won't be disappointed! And thanks SS, you're the best!
2006-12-12 19:04:34
Darth Maul Sixth Scale Figure
5
19
19
Tabletop View — Darth Maul Sixth Scale Figure
12" (304.8 mm)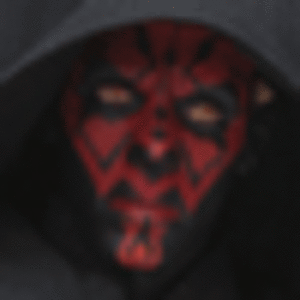 Scale is approximate and should be used for rough comparisons only.