https://www.sideshow.com/collectibles/4859
Want $15 off?
Sign up for the newsletter
Be the first to know
Sign-up for text alerts
Solid artwork
November 24, 2016
This is my 9th Premium format from Sideshow, It's getting really addictive. I have regrets after clicking 'Buy'. Then i receive them, and all regrets simply disappear. I actually have TWO of these plain white stormtroopers now. I wonder how "Limited" they are though? Happy customer! Shipping tho :(
2016-11-24 13:16:45
Good Buy
April 24, 2016
With the prices of the 1/6 figures, this is a good buy. I mean R5 D4 is 159 bucks plus shipping, so why not they are about the same price as a 1/6 scale and now they are the only numbered editions left.
2016-04-26 03:08:07
Stormtrooper
April 6, 2016
Beautiful piece. Very happy. Looking forward to getting Vader now. Well done sideshow. Well worth the money.
2016-04-11 16:35:43
Addicted To Sideshow
March 24, 2016
I just received and setup this piece yesterday. It is my third purchase from Sideshow and just like my Darth Vader Mythos, and Gallevarbe figures, it is a purchase I am so happy I made. The Stormtrooper is beautifully made and has helped feed my Sideshow addiction again. Time to find my next fix.
2016-03-24 20:04:50
For the Empire!
January 31, 2016
Really well done and worth the price, I could not be more satisfied
2016-01-31 14:23:07
Feels like your in the movie!
July 9, 2015
The detail is awesome! real cloth under the suit. The armor is superb with a gloss finish. The holster is leather. Very happy that I added this piece to my collection. I smile every time I see it. :)
2015-07-09 02:16:07
Aesome!
December 22, 2014
What a fantastic piece! The detail is superb and I am VERY happy I finally added this guy o my collection!
2014-12-22 14:17:43
Stormtrooper
June 30, 2014
Yes i Will buy this Stormtrooper action figurer its so cool.
2014-07-09 20:11:44
Just Like in the Movies
June 20, 2014
I got my piece last Monday and was completely blow-away. The high-quality craftsmanship & details were as expected from all Sideshow items but what surprised me most was the helmet as it was the slanted, asymmetrical "wonky" look helmets seen in the original Star Wars Trilogy.
Way to go SideShow!
2014-07-09 20:38:55
Stormtrooper
May 23, 2014
A must buy for any collection ,and I would highlu recomend getting a Blackhole Stormtrooper .I have and they complement each other .cant wait for my Stormtrooper Commander to join them . Thanks Sisdeshow for such great statues.
2014-06-13 03:18:08
Stormtrooper Premium Format
August 29, 2013
Got mine yesterday. It is PERFECT in every way I could think of. SIDESHOW just take my working kidney for the rest of the things I plan on getting. LOL. This is why I collect. This is a wonderful piece of ART. And to everyone from the artists to the customer service at SIDESHOW. You are the best!!
2013-09-24 17:45:23
Amazing
July 23, 2013
The best Birthday Present ever! I can't afford a Life Size Suit or have the room for one, but this is the next best thing. I like how shiny it is, and the detail is amazing. Only problem I had was that one of the metal hooks on the canister on his back fell off. It was an easy fix with a little glue
2013-07-29 17:26:10
Yes! Yes! YES!!!!
June 1, 2013
My Stormtrooper arrived today and I love it!
Amazing piece of art! Thanks Sideshow!
2013-06-04 00:12:23
PF Stormtrooper
May 29, 2013
I bought two and they look great side by side next to my DARTH VADER PF.
2013-06-04 00:14:50
Yes, yes, yes !!!! Buy it before is too late!!!!
April 26, 2013
Speechless!!!!!! What can I say about this that has not been told already but that it looks awesome and way better in person. Please Sideshow made all the "Militaries of the Star Wars" in this awesome Premium Format Scale. Very, very, very pleased...thanks and waiting for more.

2013-04-26 15:05:09
Can't Believe I Waited!
March 1, 2013
I've looked at this figure for months trying to decide whether to buy it or not. Each time I went to purchase it, I went with another figure. I'm sorry I waited. This figure is incredible. I love the detail of the suit, the quality of the material and how it complements my collection.
2013-03-04 22:20:30
Rally the troops!
February 16, 2013
Absolutely love my new Stormtrooper figure! I have it proudly displayed so I see it every day. Incredible level of detail that makes it look like he stepped right of Episode 4 A New Hope. I will definitely be buying more Premium format figures. Sideshow Rocks!
2013-02-18 22:32:21
Stop SS you're sending me broke!!
February 1, 2013
I thought long and hard on this one as the base was a little plain but kept coming back to it as reminded me of the excitement of seeing the movie 7 times when it first came out. Well the excitement came back when I saw this bad boy. Excellent work SS
2013-02-01 19:42:35
Why did I wait so long to order?
January 30, 2013
I can't stop looking at it. I don't know why I waited so long to get it. I was going to give it 4 stars for it being an "open" edition, but after seeing it in person, it's errned the 5th star. Look, I'm the 18th review for this, if you've read this far, just get it! There will be no regrets. Love it
2013-01-30 18:17:02
WOW... JUST ....WOW
October 26, 2012
My fiance saw me eyeing this PFF and low and behold it arrived today! My first real Sideshow Collectible! The Stormtrooper is so impressive! It is truly beautiful and the most gorgeous Star Wars Item I have ever had the pleasure of owning! I can not stop looking at it . I am hooked on SC now.
2012-10-30 16:09:31
Masterpiece
October 14, 2012
I rate this 10/10 SS captured every detail. if your Starwars fan this is a MUST!
2012-10-15 22:55:17
Impressive, Most impressive!
July 18, 2012
I have seen it a few times before at one of the local comic shops that is a Sideshow Collectibles distributor. I was just so impressed with everything about it, down to every small detail that I decided to buy it. Took it home... Looks Great!

2012-07-18 22:21:20
Amazing!
June 27, 2012
This piece is soo Freaking cool! The detail is truly amazing, right down to the creases on the boots. A must own for any Star Wars fan or collector. My first premium format figure and first Sideshow piece but certainly not my last.
2012-06-27 23:54:47
My new favorite collectible...
May 12, 2012
I received this yesterday morning & after putting him together & finding a home for it I find I'm constantly looking at this statue, obviously I bought it to look at BUT I think this one has a more impressive feel about it than any of my other statues & figures do.
2012-05-12 19:13:43
excellent figure..awesome...
April 19, 2012
a beautiful piece, right pose very detailed and acurate...thanks sideshow
2012-04-19 22:33:03
stormtrooper premium format
April 8, 2012
one of the best pf this year this statue goes well with darth vader pf or u can have it with emperor palpertine no probles with packiging the only thinig negitive is that the base is a bit to lite other than that 9/10
2012-04-10 18:02:21
It's a gem!
February 10, 2012
An absolutely outstanding figure. It's so detailed and feels really significant! A true highlight in my Star Wars collection and the ultimate "eye-catcher" in my office!
2012-02-10 22:54:14
BLAST'EM!
February 2, 2012
What a perfect addition to the Star Wars Premium Format line! There isn't a better Stormtrooper statue on the market. Love it!
2012-02-03 00:39:52
OPEN THE BLAST DOORS, OPEN THE BLAST DOORS!
January 31, 2012
....the detonator pack is a little tricky to put on and one of the metal clips broke which looks like it can be glued back on. Other than that I highly recommend this. I still may get another and I am interested in the Grand Moff and Secura PFF's.
2012-02-01 20:06:36
Aren't you a little short for a Storm Trooper?
January 31, 2012
My first PFF I have got to say it's pretty neat. Before him I only collected life size busts so I was concerned about the size but he looks really good. The armor on fabric is great and the base does give a Death Star feel. Just be careful fitting the detonator pack, one of my clips broke off.......
2012-02-01 20:06:06
Beautiful Storm Trooper
January 12, 2012
Was so excited to see this and it was worth the wait! One thing I noticed right away was that this one is not numbered. I think this is the first Sideshow PF that I've received that isn't numbered... at first I thought it was a mistake but looks like this is an open edition.
2012-01-12 23:48:27
Perfect companion piece
January 10, 2012
Stormtrooper PFF is the perfect companion piece for many recently released and older statues. Great if you have the SS Exclusive Clonetrooper too. I love comparing the two. Imaculet and shining, this is a beautiful statue. Note: base is packaged in the shipping box instead of the statue box.
2012-01-10 22:21:21
Jaw Dropping Perfection
January 8, 2012
This is my first PF figure fron SSC & I can't believe how dead on this is!The helmet & armor pieces are spot on.This is the pinnacle of my collection.Thanks to the artists for giving us this fantastic tribute to a classic Star Wars character.
2012-01-09 18:45:55
Star Wars DEFINED!
January 7, 2012
I have collected many Sideshow statues but none like this. With armor so shiny that I can see my own reflection in and fabric so smooth I know it's one of there best yet. The perfect pose and amazing detail just makes it even better. As a Star Wars fan I'm extremely satisfied.
2012-01-09 18:45:39
"SET FOR STUN!"
January 6, 2012
As I opened my Stormtrooper PF box, I was stunned! WOW! Perfect white shiny armour with a portrait head that swivels! The blue and black paintings are right on! This IS a must have for the STAR WARS collector.....back to 1977 when we first saw the Stormtroopers! This PF was worth the long wait!
2012-01-07 00:21:54
Awesome work of ART!!!
January 6, 2012
My Stormtrooper arrived just this week and I was blown away by the detail and the sheer awesomeness of it all.
My only concern is the air tank that hooks onto the back of the utility belt. It could easily scratch the finish of the armour if not attached perfectly.
2012-01-07 00:21:44
Stormtrooper Premium Format™ Figure
5
36
36
Tabletop View — Stormtrooper Premium Format™ Figure
19.5" (495.3 mm)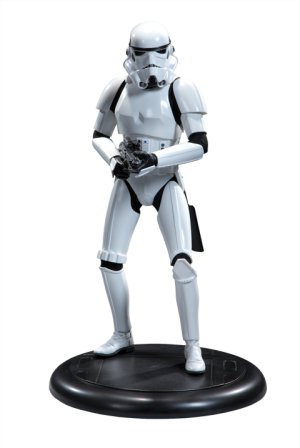 Scale is approximate and should be used for rough comparisons only.