https://www.sideshow.com/collectibles/10235
Est. Arrival: Jan 2021 - Mar 2021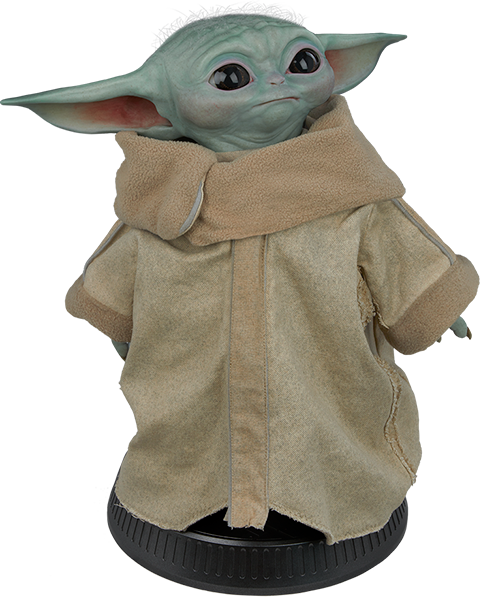 How big is this collectible?
View size comparison
About This Life-Size Figure
"I would like to see the baby."
Sideshow presents The Child Life-Size Figure, created in partnership with Legacy Effects to bring you the galaxy's most sought-after bounty.
Lovingly referred to by audiences as 'Baby Yoda', the mysterious alien known as The Child or Grogu has quickly become the breakout fan-favorite of Star Wars™: The Mandalorian on Disney+. Now eager collectors can become a clan of two and bring home the asset as an incredible 1:1 scale Star Wars collectible, no tracking fob needed.
The Child Life-Size Figure measures 16.5" tall, standing on a simple ship deck base that lets this adorable alien steal all of the focus- along with the Mandalorian's ship parts. Inspired by its unique onscreen appearance, this mixed media statue features a tan fabric coat swaddling The Child as it gazes up with charming wide eyes, hiding the silver shift knob from the Razor Crest™ in its right hand.
Every inch of this incredibly lifelike figure has been meticulously detailed to recreate everything that Star Wars fans love about the young alien, from the fuzz on its wrinkled head to its irresistible pout, all the way down to its tiny, toddling feet. Fans looking to bring home The Mandalorian collectibles need look no further- bounty hunting is a complicated profession but collecting the galaxy's cutest alien has never been easier!
Secure the asset for your Star Wars figures collection and bring home The Child Life-Size Figure today.
Additional Details & Dimensions
Materials
Product Size

Height: 16.5" (419.1 mm) | Width: 13" (330.2 mm) | Depth: 9" (228.6 mm) | *

Box Size

Height: 12.00" (304.8 mm) | Width: 17.50" (444.5 mm) | Depth: 20.00" (508 mm) | *

Weight

12.00 lbs (5.44 kg) *

* Size and weight are approximate values.
Learn more
SKU

400369

UPC

747720250611
© & ™ Lucasfilm Ltd.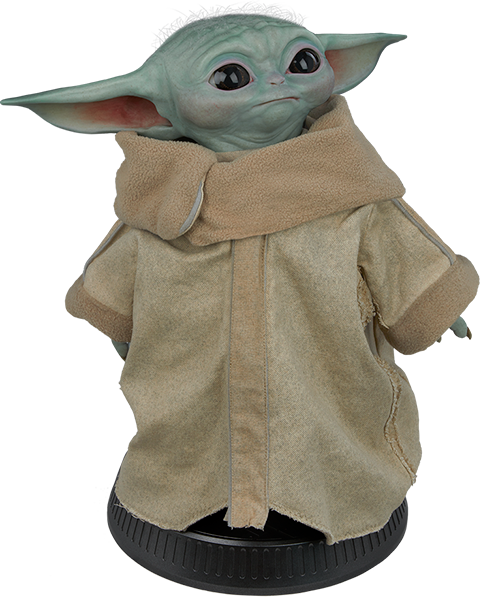 How big is this collectible?
View size comparison
Want $15 off?
Sign up for the newsletter
Be the first to know
Sign-up for text alerts
Get $18.75 back!
Earn 5% in Sideshow Rewards.
Learn more
Stunning
January 23, 2021
I absolutely love this figure. The level of detail is outstanding, and he looks like he was carried off the set and placed off my desk. My only wish is that the arms were able to be posed, but even as a static piece it's just awesome and now occupies a prominent place in my home.
5
My family and I love it
January 23, 2021
Very pleased with this purchase. The detail is great and a lovely center piece.
5
Love Grogu!
January 18, 2021
We absolutely love this piece! Even though Grogu cannot move his extremities, he is beautiful! He is a great addition to our family. I uploaded a picture with him and BB8. :-) Thank you!
5
Love,Love,Love This Child!
January 17, 2021
He is so adorable. So glad I ordered him. The little hairs on his head and his little wrinkly brow are so amazingly life-like. My only complaint would be, he does not have moveable arms to hold his prized possession, his knob from the Razorback.
5
Absolutely great piece!!!
January 16, 2021
I was in awe when I unboxed it--absolutely flawless--it is as if the Child is alive--detail is amazing--thanks a million Sideshow!!!
5
Almost perfect
January 15, 2021
We got in on this as soon as it was announced and really love the figure. The only criticism I have is that the arms do not bend allowing him to hold out the shifter ball which connects to his hand with magnets. I will be making a bit of alterations to allow him to hold out his hand in triumphant display of his favorite shiny object. Absolutely adorable!
5
Anthony Charles M.
5 star review
Sideshow the child
January 11, 2021
Ordered the Child from the first it was announced last year. And I must say I'm impressed with the quality of the product really brings Grogu to life. Been buying from Sideshow for a while now perfect service all the time.
5
Perfect!
January 9, 2021
Absolutely love my life sized Grogu! He looks perfect in every way. The paint up and sculpt is perfection. I am beyond happy with my purchase!
5
I am in love!
January 6, 2021
We ordered our Child back in February, it took ten long months to arrive (not complaining at all, we understand that COVID has impacted everything), but the wait was well worth it! This figure is delicately hand crafted, perfectly designed, and an absolute adorable work of art! My only critique would be having more posable options!
5
Unbeatable!
December 31, 2020
I ordered this back in July, and it finally arrived yesterday. It's my first purchase from Sideshow, and it's been a good experience. Very helpful staff, good communication, always got back to me.
"The Child" is fantastic. I was weighing up the Hot Toys version as well. I think this Sideshow version really is unbeatable. It's far more detailed the Hot Toys version and it's a little cheaper.
The expression on his face just brings it to life for me.
All stores here in the UK are pre-order only with a April to May 2021 delivery. Even after paying the shipping and tax, it was still a little cheaper as well. DHL did a fantastic job with the delivery as well, so very happy all round.
5
Beautiful Grogu
December 30, 2020
I'm pleased with my purchase but I'm a slightly disappointed that the Grogu figure does not have the cute fuzzy hair on his ears as well, especially given my expectation of a true replica. A bit surprised given the artists seem so committed to getting every little detail right. Otherwise I am happy to see him gazing up sweetly at our Christmas tree.
5
Just love my Grogu!
December 28, 2020
Absolutely stunning detail, worth the wait. Thank you Sideshow!
5
Worth every penny
December 28, 2020
Very pleased with how he turned out. Ordered at the beginning of the year, came in Christmas Eve and well worth the wait. The level of detail is insane; high quality fabric robe, the little fuzz hair on his head, the gloss paint in his tear ducts, some times I park him in front of my TV and it feels like we have the real Baby Yoda in our living room.
5
Sideshow collectables life size figure
December 28, 2020
Beautiful piece by Sideshow. Absolutely stunning to look at. The hair on top of his little head came out great and the detail in his face makes him look so real. What a great piece in anyone's collection.
5
The Asset arrived for Christmas
December 24, 2020
Securing The Child right before Christmas was a complete surprise. He arrived at my door from California to Alberta, Canada in two days travel time. Perfect condition and brilliantly constructed.
5
Beautiful
December 24, 2020
He sits in our television room. What a brilliant little piece of art. So cute. Big hit that everyone enjoys.
5
Perfect!
December 22, 2020
I just got mine and I'm completely in love with it. Was totally worth the wait of almost a year, he feels really well made and the base is also very sturdy. He arrived within 4 days in perfect condition. Now I just need to find a good cabinet for him because this little guy is worth so much! Sideshow were very friendly and supported me with my questions through every step of the journey to get my baby. Thank you - this is the way:)
5
Joanmarie Z.
5 star review
Love Him
December 20, 2020
Love this little one. The detail is amazing and I'm happy to have him makes me smile every time I look at him :)
5
I Love my Grogu
December 18, 2020
He is amazingly beautiful and realistic! His eyes are mesmorizing and I am still waiting for him to blink.
Great work to all artisans involved! 🙌
5
So lifelike
December 17, 2020
This is literally like having the real thing sitting on your shelf! Such amazing detail and realism from head to toe. Definitely pick this up if you have not!
5
He's so REAL!!!
December 17, 2020
I don't believe anyone will beat this product. He's so real, I expect him to start cooing or tilting his head and ears. You guys knocked it out of the park with Grogu for sure. Absolutely adorable! Thank you guys at Sideshow and Legacy Effects for this product.
5
Amazing
December 16, 2020
Received The Child yesterday. Sideshow has out done itself. The Child was everything I expected it to be and more! Congratulations to Sideshow and Legacy. A very welcome addition to my collection. The Child was also well worth the wait (once again not Sideshow's or Legacy's fault). From start to finish. From ordering to shipping. Sideshow was excellent. Thanks to everyone at Sideshow and Legacy. Looking forward to my next order. Thanks & Happy Holidays!
5
The Child
December 12, 2020
Received mine in the mail yesterday. So worth the wait. The detail is unbelievable. Amazing job guys. Keep it up.
5
My Grogu!!!!
December 11, 2020
Finally my Grogu has arrived in Spain!!! I love it!!! My cats also is happy with him :) It's a higher quality, and very cute. Thank you so much!
5
Grogu
December 10, 2020
Hey... Dr. Evil, keep your money and give me the baby!
Awesome piece, keep up the stellar work
5
PERFECT!
December 9, 2020
Why are you wasting time reading reviews, just place your order!
5
Beautiful!
December 8, 2020
Looks great. The hair, paint, his potato sack, it's all just done so well. And his eyes are just perfection. This one was knocked out of the park. And IMO, underpriced 🤫
5
The Child
December 7, 2020
He is awesome. You did an excellent job with this!
5
All I can say is wow! But I'll still say more...😂
December 2, 2020
Just a fantastic statue. The eyes are simply beautiful! The costume is thick and heavy and is a real little robe with a legit zipper! Not enough kudos for this fantastic outfit. It begs to be backlit. The translucence of the ears is a remarkable aesthetic. A little rubbing to remove a little of the excess red on the cheeks and it became flawless. Can't stop staring at it. Was a little worried because the right eye showed up hazy. Looked like an imperfection. I took a q tip and buffed it a little, and it shined right up! Definitely a contender for my favorite collectible!
5
I LOVE my "Child"
December 2, 2020
I received my Baby Yoda a day early! I was very happy with my purchase!! I love the intricate details that were put into creating this gorgeous collectible!! He is currently displayed on top of my book shelf! I highly recommend him for anyone that loves "The Child" as much as I do!
5
Amazing!
December 2, 2020
Slightly rosier cheeks than was expected; however, Grogu is perfect in every other way. Amazing piece!
5
this is the way
November 30, 2020
Superb item all round. Beautifully rendered and a great addition to any collection.
5
Grogu in the flesh!
November 28, 2020
So lifelike and detailed! The paint and the sculpt really captures the essence of the child. Beautiful Base artwork as well!
5
Love it!!!
November 27, 2020
Was very surprised by how big the box was and how big the Child is. Very detailed and lifelike too.
5
Amazing.
November 26, 2020
Words do not describe the joy this little guy brings. Amazing.
5
10/10
November 25, 2020
Now my favourite piece. Will bring joy for years
5
Don't miss out on this
November 25, 2020
I received my asset today and I am blown away with the product. It's incredibly life-like and the attention to detail is perfect. Photos really don't do this piece justice, I'd recommend picking it up 100%. From shipping day to the UK in 48 hours as usual - couldn't fault it. Thank you Sideshow.
5
WOW!
November 20, 2020
Absolutely amazing piece!
I am blown away with the detail of The Child. This has blown me out of the water, definitely a centre piece!
5
The child
November 20, 2020
Received my figure today wish I had the skill to do one of those unboxing videos. This thing is amazing. Worth every penny glad I purchased it.
5
The Child
November 18, 2020
5
Fantastic Piece
November 17, 2020
Absolutely amazing detail!!!
5
The Child
November 17, 2020
Amazing! I pre ordered in July and I have been looking forward to it since. Definitely not disappointed I can't believe how real this guy looks awesome job sideshow
5
Amazing
November 16, 2020
Arrived to me in the UK today without any damage and my god its eyes are incredible, highly recommend to anyone that wants a screen accurate baby Yoda
5
What an awesome product of this little "sweety"
November 16, 2020
Dear Sideshow Team....
You did an awesome job on this little, green heart-breaker 😁😁😁
All details are really perfect....I'm speechless.
Thank you 😊👌👌👌
5
Cute
November 16, 2020
Very cute little guy. However, the cheeks are too red...way more noticeable in person than in these photos.
5
The Child Rocks
November 15, 2020
This was above and beyond what I expected. Absolutely love it!! Great Job!!! Definitely worth it!!
5
The Child
November 13, 2020
Can't say enough about this! He's scary realistic to the point that I constantly think he is going to move at any second! You guys killed it once again! Worth every dollar spent!
5
Beautiful Statue!
November 11, 2020
Very well done!! Even the eyes have detail, as well as hair on his head!! He was totally worth the wait!!
5
So perfect, I expect him to start walking across the floor!
November 11, 2020
99% perfect! I wish his head could move up and down for more display options, but otherwise he's AMAZING.
Sideshow usually comes in a distant 2nd to Hot Toys, but this time they knocked it right out of the park.
5
Love it!
November 11, 2020
I was worried about the red in the cheeks but he looks amazing! Love him so much!
5
Amazing!!
November 9, 2020
It looks very accurate to the show but I wish it did have more articulation in its arms and neck.
4
Best collectible to date
November 9, 2020
I ABSOLUTELY LOVE THIS LITTLE GUY! You guys killed it! The price was perfect too! Cheers!
5
The Child Life-Size Figure
5
53
53
Tabletop View — The Child Life-Size Figure
16.5" (419.1 mm)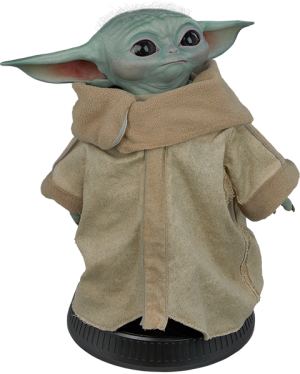 Scale is approximate and should be used for rough comparisons only.