https://www.sideshow.com/collectibles/10235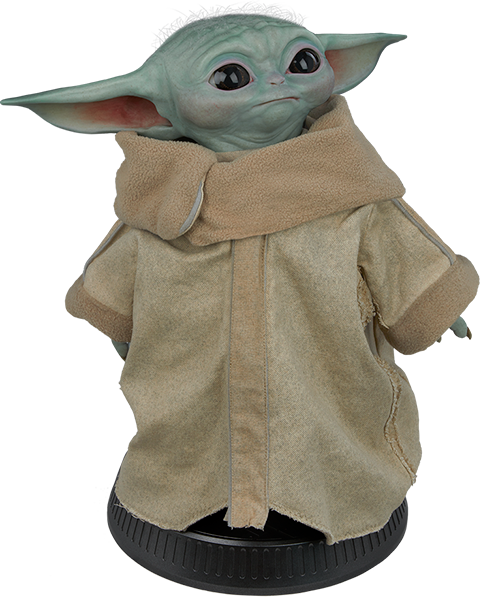 How big is this collectible?
View size comparison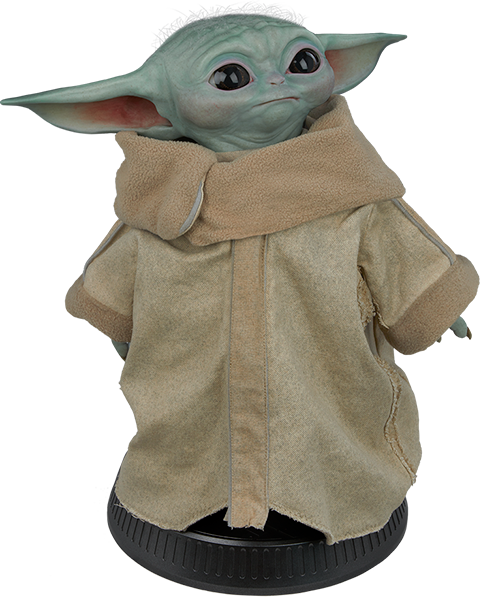 How big is this collectible?
View size comparison
Want $15 off?
Sign up for the newsletter
Be the first to know
Sign-up for text alerts
Get $18.75 back!
Earn 5% in Sideshow Rewards.
Learn more
His name is Grogu
May 29, 2021
Very happy with acquiring the asset. When this replica of the Child was announced two years ago I was like man this is a cool life size statue of Grogu. I waited til this was available to see in person and as soon as I saw it, I placed my order and wanted one for my collection. This is as close as the real thing. Just too bad it can't articulate like the Hot Toys version but it did make my co-workers want to hold him.
5
Innocent Grogu
May 26, 2021
Wonderful figure..... has a very innocent questioning expression....fits in my collection PERFECTLY!
5
Absolutely awesome
May 2, 2021
Perth Australia- absolutely love it. Oh I was amazed on the detail. Even has hair lol

Only downside he is looking up a little so I had to put him more at or below eye level in a glass cabinet. Was in my opinion well worth the money.
5
Just Incredible!
April 24, 2021
Bought this as a gift for my wife. We've fallen in love with the series and she's really sweet on Grogu! Such vibrancy in the finish colors, the details in the sculpt/eyes are stunning, and the weathering of the cloak are just eye opening! Even the smallest of things pop like the base/the art work on the bottom, and even the visuals on the box excite me. Sideshow without a doubt has definitely stood and delivered again!
5
The Child statue
April 17, 2021
First Sideshow purchase and definitely won't be my last thanks to how incredible it is. Pictures really don't do it justice. Just blown away by the detail. A must for any Star Wars fans collection.
5
Wow! Wow! Wow!
April 9, 2021
My little guy arrived today and I can not tell you how amazed I was! He comes out of the box looking perfect! The quality is beyond gorgeous from the outer box to Grogu himself! Sideshow outdid themselves! Amazing artists!
5
Amazed
April 1, 2021
For the price you pay they went above and beyond, I actually feel that this should have been worse at least $200 more, amazing attention to detail and they go out of their way to make you feel like you made the most excellent choice. A most have for any serious collector!
5
Stunningly accurate
March 31, 2021
Words really defy the quality of this statue. I don't see how anyone can be a fan of the Mandalorian and NOT own this piece as a part of your collection. You won't be disappointed and so far, it's the centerpiece of my collection until some of my other pieces arrive!
5
Grogu is simply wonderful!
March 28, 2021
This statue far surpasses my expectations. The little alien has charmed many a visitor to our home as he gazes up into their eyes. The artisanship is just terrific. I truly cannot recommend Grogu highly enough to any fan of THE MANDALORIAN and the child.
I got the shipment quickly and it was packed meticulously so there was no damage to the statue.
5
Excellent
March 23, 2021
I love it, my son loves it. Very cool and high quality!
5
Cutest Addition to my collection
March 18, 2021
Absolutely amazing quality! I am so happy with it. He went from The Child to My Child.
5
Asset Acquired!
March 18, 2021
Love this lil guy. Y'all knocked it out of the park!
5
The Child
March 15, 2021
This is an amazing piece the photographs do not do it justice.
It is extremely life like, paint job is great and clothing is perfect, would highly recommend.
I love it, great buy.
5
Grogu is simply wonderful!
March 14, 2021
This might be one of Sideshow's best statues ever. The little guy is beyond huggable and his upward gaze captures both his childlike innocence & inner knowledge that he has already developed as a Jedi. This was a big hit with visitors the minute I put him for display. Big thumbs up!
5
A LIGHT IN THE EYES OF THE FORCE.
March 11, 2021
I wake up every morning and see the Love and Light in the Eyes of this little guy Every morning. Best Credits I ever spent and worth high priced bounty on him. Worth every credit and price quickly fades away after he shows you this is the way of the Force and the one not to miss!!!
5
Adorable!
March 11, 2021
Looks great! Just like the show and arrived quickly once it was shipped!
5
Love my Grogu!
March 10, 2021
I am extremely pleased with my purchase! He looks so amazing and lifelike! This figure is easily my favorite piece in my collection!
5
Grogu
March 8, 2021
From the moment I saw this character on The Mandalorian I fell in love with it. As a child my favorite character was Gizmo, use to have life-size teddy then of him and being an adult now I knew I had to buy this life-size figure of my new favorite cute character. Excellent quality, the force is definitely strong in this one.
5
Awesome statue!
February 27, 2021
This statue is awesome! Mine arrived a week ago and when I unboxed it I realized that Sideshow did an amazing job! The face expression is incredible! It looks like real! The clothes are great quality and the paint also. The base is well painted, heavy and very stable and the box also. Mine arrived in a flawless condition and it's my favourite statue that I currently own. The ball has a very strong magnet and sticks great to Baby Yoda's hand. Very good job!
5
First and definitely not my last Sideshow order
February 26, 2021
Incredible detailed statue and the finest quality on all visible parts. Came without any damage and the pink cheeks aren't irritating in any kind.
Love my little Grogu!
5
Michelle K.
5 star review
ADORABLE little Grogu!!!!
February 25, 2021
Thank you SO very much Legacy Effects and Sideshow!! I absolutely LOVE and ADORE my The Child/Grogu statue!! What a sweet and precious looking little guy he is! He is just SO CUTE and BEAUTIFUL! The photos and videos of this statue look awesome, but seeing him in person takes it to an entire new level. This is an AMAZING piece!! To me, even the weight of this statue feels like what you would think the real Grogu weighs. The details really are stunning! He's in my room with me, and every time I look at him, he makes me smile. He brings some joy and comfort into my world. He is a PERFECT little masterpiece of art!!!! The base and artwork on it is really beautiful looking too! Such an outstanding job with this entire piece! I'm just SO happy to have him with me!!!! If you love Grogu, this is definitely a must have!!
5
Bluffant de réalisme!
February 24, 2021
Juste parfait... L'impression qu'il sort directement de la série.
5
jonathan l.
5 star review
Won't regret it!
February 24, 2021
Incredibly fast shipping to the UK. Perfect piece. Looks fantastic on display and my family love it. If you are on the fence it's a definite buy.
5
Amazing!!!
February 22, 2021
I'm happy that I finally pulled the trigger on this statue. Mine was part of the next batch and the paint was much better. Sideshow really did a great job with this one.
5
Looks better in person.
February 19, 2021
Don't trust these pictures for the product. The only one that comes close is the main one. It looks SO much better in real life and Sideshow customer support is top notch. The base is sturdy, the statue fits on the peg perfectly, there is no hair on the ears but you can't notice at all, and the eyes are extremely lifelike in person, A side note: I received mine in late Jan '21 and it doesn't seem to have red cheeks the same as those posting on youtube from the initial wave. It's a perfect amount of a hint of red now. They must have fixed it. The ONLY negatives that I could force myself to think of is the knob is plastic (but it makes sense because of weight), and the robe isn't torn at the bottom the way it is in the show, but that would be a mess of threading all over if they did that. Some people "modify" theirs for the arms to move...I wouldn't dare, it looks perfect in the position it's in. All in all, an amazing product, worth the price.
5
Caitlynn P.
5 star review
He is baby
February 13, 2021
I love him so much! He is just as cute as in the show!
5
Absolutely Amazing
February 9, 2021
What a wonderful attention to detail on this little guy. He is the cutest.
5
Spot-On
February 9, 2021
Amazing! Beautiful, charming and superb in every way. In hand, this little one is better than the online representations can convey. Beats the Hot Toys likeness by spades - but I guess that's no surprise, given the lineage of how this Asset came into being.
Rating:
Sculpt / likeness: 11/10
Construction (media used) 10/10
Paint: 10/10
Presentation (mood, base, presence) 10/10
Articulation: 2/10 (Only the head is posable, along with the magnetic shift-knob accessory) - arm/forearm articulation, would have added considerable character poses. This is the only area this little one struggles in. Personally, I can live with that and it really doesn't detract from the overall quality at all. My prediction: Get it and order it while you can, this version will sell out very quickly and appreciate like nothing...
5
Adorable little guy
February 6, 2021
Finally arrived, I was so impatient for him to be there. he is too cute and if "real" it is very impressive; for that I would like to congratulate Sideshow and all the Artists who worked on this project.
5
This purchase has made me so happy!!!!!
February 6, 2021
I was so dang excited when I first saw it on the website. I just love Grogu!!!!! And being able to make payments to purchase him was the icing on the cake.
5
Best addition ever!
February 5, 2021
This is hands down the best ever! Grogu is amazing !
5
Long awaited and happy
February 4, 2021
Arrived finally after almost a year of waiting. Best purchase I've made. So excited and happy to finally have him around.
5
Amazing Piece
February 3, 2021
I have numerous Sideshow pieces. This by far out shines them all. It came on time. It was well packaged. Everyone in the house was around when I opened it. It is now sitting nicely in our living room on our feature wall with the rest of my Sideshow collectibles and other great pieces I own. Worth every penny, and now plastered all over my Instagram page to show off!
5
My Son Grogu
February 2, 2021
Man oh man what a treasure this little guy is. Pictures look amazing but in person he is just astounding. Phenomenally life like and realistic with beautifully and authentically done paint apps, sculpting, cut and sew. Everything is just like having the real puppet on my shelf. Thank you Legacy and Sideshow for bringing this dream to life. I am one very happy Din Djarin and will be doing so many pictures with him soon.
The service and response from Sideshow was timely and promptly fulfilled. They answered all my questions and requests, thank you Justine and Kimberly for your help during the process.
100 stars out of 5
5
My wife loves it!!!!!
February 2, 2021
Grogu arrived just in time for my wife's birthday and she loves it. The detail is excellent. There is one small issue we found. The base peg is too large for the hole in Grogu's foot. Other than that it's perfect.
5
The Child
February 2, 2021
5
Perfect
February 2, 2021
It's perfect. The hair, the eyes, and yes, the color! There have been complaints about the red in the cheeks but people seem to forget that the show is heavily color graded. I Superman recommend this. Worth the price.
5
Grogu arrived today
February 1, 2021
Arrived today at my house it's beautiful and it's one of the cutest things I've ever seen!
5
Oh my Oh my Oh my...
February 1, 2021
This little guy is the most adorable thing ever. The child is spectacular and its base is solid and well made. The overall likeness is stunning and its paint job well done. Very pleased with our purchase!
5
Very Awesome!!!!
January 29, 2021
Luv My New Baby "GROGU" YODI,Great Detail In Every Aspect, SIDESHOW Delivered As Always😎🤘
5
Stunning
January 23, 2021
I absolutely love this figure. The level of detail is outstanding, and he looks like he was carried off the set and placed off my desk. My only wish is that the arms were able to be posed, but even as a static piece it's just awesome and now occupies a prominent place in my home.
5
My family and I love it
January 23, 2021
Very pleased with this purchase. The detail is great and a lovely center piece.
5
Love Grogu!
January 18, 2021
We absolutely love this piece! Even though Grogu cannot move his extremities, he is beautiful! He is a great addition to our family. I uploaded a picture with him and BB8. :-) Thank you!
5
Love,Love,Love This Child!
January 17, 2021
He is so adorable. So glad I ordered him. The little hairs on his head and his little wrinkly brow are so amazingly life-like. My only complaint would be, he does not have moveable arms to hold his prized possession, his knob from the Razorback.
5
Absolutely great piece!!!
January 16, 2021
I was in awe when I unboxed it--absolutely flawless--it is as if the Child is alive--detail is amazing--thanks a million Sideshow!!!
5
Almost perfect
January 15, 2021
We got in on this as soon as it was announced and really love the figure. The only criticism I have is that the arms do not bend allowing him to hold out the shifter ball which connects to his hand with magnets. I will be making a bit of alterations to allow him to hold out his hand in triumphant display of his favorite shiny object. Absolutely adorable!
5
Anthony Charles M.
5 star review
Sideshow the child
January 11, 2021
Ordered the Child from the first it was announced last year. And I must say I'm impressed with the quality of the product really brings Grogu to life. Been buying from Sideshow for a while now perfect service all the time.
5
Perfect!
January 9, 2021
Absolutely love my life sized Grogu! He looks perfect in every way. The paint up and sculpt is perfection. I am beyond happy with my purchase!
5
I am in love!
January 6, 2021
We ordered our Child back in February, it took ten long months to arrive (not complaining at all, we understand that COVID has impacted everything), but the wait was well worth it! This figure is delicately hand crafted, perfectly designed, and an absolute adorable work of art! My only critique would be having more posable options!
5
Unbeatable!
December 31, 2020
I ordered this back in July, and it finally arrived yesterday. It's my first purchase from Sideshow, and it's been a good experience. Very helpful staff, good communication, always got back to me.
"The Child" is fantastic. I was weighing up the Hot Toys version as well. I think this Sideshow version really is unbeatable. It's far more detailed the Hot Toys version and it's a little cheaper.
The expression on his face just brings it to life for me.
All stores here in the UK are pre-order only with a April to May 2021 delivery. Even after paying the shipping and tax, it was still a little cheaper as well. DHL did a fantastic job with the delivery as well, so very happy all round.
5
Beautiful Grogu
December 30, 2020
I'm pleased with my purchase but I'm a slightly disappointed that the Grogu figure does not have the cute fuzzy hair on his ears as well, especially given my expectation of a true replica. A bit surprised given the artists seem so committed to getting every little detail right. Otherwise I am happy to see him gazing up sweetly at our Christmas tree.
5
Just love my Grogu!
December 28, 2020
Absolutely stunning detail, worth the wait. Thank you Sideshow!
5
Worth every penny
December 28, 2020
Very pleased with how he turned out. Ordered at the beginning of the year, came in Christmas Eve and well worth the wait. The level of detail is insane; high quality fabric robe, the little fuzz hair on his head, the gloss paint in his tear ducts, some times I park him in front of my TV and it feels like we have the real Baby Yoda in our living room.
5
Sideshow collectables life size figure
December 28, 2020
Beautiful piece by Sideshow. Absolutely stunning to look at. The hair on top of his little head came out great and the detail in his face makes him look so real. What a great piece in anyone's collection.
5
The Asset arrived for Christmas
December 24, 2020
Securing The Child right before Christmas was a complete surprise. He arrived at my door from California to Alberta, Canada in two days travel time. Perfect condition and brilliantly constructed.
5
Beautiful
December 24, 2020
He sits in our television room. What a brilliant little piece of art. So cute. Big hit that everyone enjoys.
5
Perfect!
December 22, 2020
I just got mine and I'm completely in love with it. Was totally worth the wait of almost a year, he feels really well made and the base is also very sturdy. He arrived within 4 days in perfect condition. Now I just need to find a good cabinet for him because this little guy is worth so much! Sideshow were very friendly and supported me with my questions through every step of the journey to get my baby. Thank you - this is the way:)
5
Joanmarie Z.
5 star review
Love Him
December 20, 2020
Love this little one. The detail is amazing and I'm happy to have him makes me smile every time I look at him :)
5
I Love my Grogu
December 18, 2020
He is amazingly beautiful and realistic! His eyes are mesmorizing and I am still waiting for him to blink.
Great work to all artisans involved! 🙌
5
So lifelike
December 17, 2020
This is literally like having the real thing sitting on your shelf! Such amazing detail and realism from head to toe. Definitely pick this up if you have not!
5
He's so REAL!!!
December 17, 2020
I don't believe anyone will beat this product. He's so real, I expect him to start cooing or tilting his head and ears. You guys knocked it out of the park with Grogu for sure. Absolutely adorable! Thank you guys at Sideshow and Legacy Effects for this product.
5
Amazing
December 16, 2020
Received The Child yesterday. Sideshow has out done itself. The Child was everything I expected it to be and more! Congratulations to Sideshow and Legacy. A very welcome addition to my collection. The Child was also well worth the wait (once again not Sideshow's or Legacy's fault). From start to finish. From ordering to shipping. Sideshow was excellent. Thanks to everyone at Sideshow and Legacy. Looking forward to my next order. Thanks & Happy Holidays!
5
The Child
December 12, 2020
Received mine in the mail yesterday. So worth the wait. The detail is unbelievable. Amazing job guys. Keep it up.
5
My Grogu!!!!
December 11, 2020
Finally my Grogu has arrived in Spain!!! I love it!!! My cats also is happy with him :) It's a higher quality, and very cute. Thank you so much!
5
Grogu
December 10, 2020
Hey... Dr. Evil, keep your money and give me the baby!
Awesome piece, keep up the stellar work
5
PERFECT!
December 9, 2020
Why are you wasting time reading reviews, just place your order!
5
Beautiful!
December 8, 2020
Looks great. The hair, paint, his potato sack, it's all just done so well. And his eyes are just perfection. This one was knocked out of the park. And IMO, underpriced 🤫
5
The Child
December 7, 2020
He is awesome. You did an excellent job with this!
5
All I can say is wow! But I'll still say more...😂
December 2, 2020
Just a fantastic statue. The eyes are simply beautiful! The costume is thick and heavy and is a real little robe with a legit zipper! Not enough kudos for this fantastic outfit. It begs to be backlit. The translucence of the ears is a remarkable aesthetic. A little rubbing to remove a little of the excess red on the cheeks and it became flawless. Can't stop staring at it. Was a little worried because the right eye showed up hazy. Looked like an imperfection. I took a q tip and buffed it a little, and it shined right up! Definitely a contender for my favorite collectible!
5
I LOVE my "Child"
December 2, 2020
I received my Baby Yoda a day early! I was very happy with my purchase!! I love the intricate details that were put into creating this gorgeous collectible!! He is currently displayed on top of my book shelf! I highly recommend him for anyone that loves "The Child" as much as I do!
5
Amazing!
December 2, 2020
Slightly rosier cheeks than was expected; however, Grogu is perfect in every other way. Amazing piece!
5
this is the way
November 30, 2020
Superb item all round. Beautifully rendered and a great addition to any collection.
5
Grogu in the flesh!
November 28, 2020
So lifelike and detailed! The paint and the sculpt really captures the essence of the child. Beautiful Base artwork as well!
5
Love it!!!
November 27, 2020
Was very surprised by how big the box was and how big the Child is. Very detailed and lifelike too.
5
Amazing.
November 26, 2020
Words do not describe the joy this little guy brings. Amazing.
5
10/10
November 25, 2020
Now my favourite piece. Will bring joy for years
5
Don't miss out on this
November 25, 2020
I received my asset today and I am blown away with the product. It's incredibly life-like and the attention to detail is perfect. Photos really don't do this piece justice, I'd recommend picking it up 100%. From shipping day to the UK in 48 hours as usual - couldn't fault it. Thank you Sideshow.
5
WOW!
November 20, 2020
Absolutely amazing piece!
I am blown away with the detail of The Child. This has blown me out of the water, definitely a centre piece!
5
The child
November 20, 2020
Received my figure today wish I had the skill to do one of those unboxing videos. This thing is amazing. Worth every penny glad I purchased it.
5
The Child
November 18, 2020
5
Fantastic Piece
November 17, 2020
Absolutely amazing detail!!!
5
The Child
November 17, 2020
Amazing! I pre ordered in July and I have been looking forward to it since. Definitely not disappointed I can't believe how real this guy looks awesome job sideshow
5
Amazing
November 16, 2020
Arrived to me in the UK today without any damage and my god its eyes are incredible, highly recommend to anyone that wants a screen accurate baby Yoda
5
What an awesome product of this little "sweety"
November 16, 2020
Dear Sideshow Team....
You did an awesome job on this little, green heart-breaker 😁😁😁
All details are really perfect....I'm speechless.
Thank you 😊👌👌👌
5
Cute
November 16, 2020
Very cute little guy. However, the cheeks are too red...way more noticeable in person than in these photos.
5
The Child Rocks
November 15, 2020
This was above and beyond what I expected. Absolutely love it!! Great Job!!! Definitely worth it!!
5
The Child
November 13, 2020
Can't say enough about this! He's scary realistic to the point that I constantly think he is going to move at any second! You guys killed it once again! Worth every dollar spent!
5
Beautiful Statue!
November 11, 2020
Very well done!! Even the eyes have detail, as well as hair on his head!! He was totally worth the wait!!
5
So perfect, I expect him to start walking across the floor!
November 11, 2020
99% perfect! I wish his head could move up and down for more display options, but otherwise he's AMAZING.
Sideshow usually comes in a distant 2nd to Hot Toys, but this time they knocked it right out of the park.
5
Love it!
November 11, 2020
I was worried about the red in the cheeks but he looks amazing! Love him so much!
5
Amazing!!
November 9, 2020
It looks very accurate to the show but I wish it did have more articulation in its arms and neck.
4
Best collectible to date
November 9, 2020
I ABSOLUTELY LOVE THIS LITTLE GUY! You guys killed it! The price was perfect too! Cheers!
5
The Child Life-Size Figure
5
92
92
Tabletop View — The Child Life-Size Figure
16.5" (419.1 mm)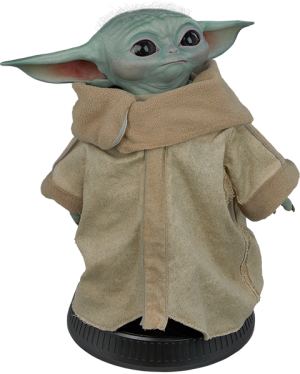 Scale is approximate and should be used for rough comparisons only.