https://www.sideshow.com/collectibles/9551
Want $15 off?
Sign up for the newsletter
Be the first to know
Sign-up for text alerts
Perfect Representation
February 23, 2021
I'm absolutely thrilled with this figure! So glad Hot Toys made him. Details and accessories are top notch. Highly recommended
5
A phenomenal figure
February 17, 2021
This was my first Hot Toys figure I've ever owned and I was blown away upon opening the packaging. The details are all there and super sharp.
5
OFF THE CHARTS BEAUTIFUL
February 17, 2021
This is an AMAZING figure by Hot Toys. So much presence. Those that slept on this one will regret it.
5
100% recommend
January 28, 2021
This is the way!! Excellent figure exactly like the real mando, good quality..
5
It doesn't always need a head sculpt to be a total winner
January 26, 2021
Well done Hot Toys for producing a total badass looking Mando. There are so many poses that can be done - even just a simple tilt of the head can change the mood that this guy can appear as. While the fat suit can be a bit restrictive, aesthetically it does its job perfectly. I am so happy to have purchased this version of Mando before it sold out. Those collectors who slept on this figure and went for the Beskar Mando will have to live to regret it. This figure happily takes pride of place in my growing collection.
5
The quality is amazing
January 22, 2021
As expected the quality of this figure is fantastic. The hardest part is figuring out how to pose it for display! So many options!
5
First Hot Toy, was not disappointed in the slightest
January 19, 2021
When I first bought this I asked myself if I really needed an expensive Star Wars Barbie, and I am so glad I said yes because the detail on this thing is otherworldly. I keep on finding new details and paint applications every time I pick it up. Cannot recommend enough.
5
First Hot Toys figure...
January 19, 2021
...and it's so phenomenal. It looks even more incredible in hand and it's 100% worth the price. 10/10.
5
Happily pulled the trigger
January 14, 2021
I do not get to buy many larger format figures, but I'm so glad I got Mando! The attention to detail on him is amazing! Can't wait to be able to save up and get another figure like him.
5
Mando!
January 13, 2021
This version of the Mandalorian was the very first Star Wars figure to join the collection and many more will follow because of how good it is!
5
Great figure and fast shipping!
January 12, 2021
Another great Hot Toys figure, one of the best of 2020!
Super fast shipping en handling by Sideshow, thanks.
5
Great Figure
January 12, 2021
Hot Toys did a fantastic job with this figure, the figure feels solid and looks amazing, definitely a must have for any Mandalorian fans out there!!!
5
This is the way
January 11, 2021
From the stunning use of color and texture on the figure right down to bits of weathering on the end of the cape, this figure is all you can ask for and more. This figure has a wide range of accessories to mess around with and options for pose-ability, all confined into the appearance that started it all off.
Whether this is your first piece or latest, it makes a fine addition to your collection .
5
Sideshow has something you want. You may think you have some idea...but, you do not.
January 11, 2021
This figure is, hands down, among one of Hot Toys' best and finest pieces to date. From the finely tailored multi-layered clothing to the high quality armor pieces and simulated leather accessories, this Mandalorian is so screen accurate that it truly feels as if he walked straight out of my television and onto my display shelf. If you could shrink yourself down to a height of 12 inches, you could literally wear this life-like miniature suit!

The full range of the figure's articulation and posability is only slightly hindered by the multi-layered soft goods materials (as well as an underlying padding to help provide the aesthetic bulk and physique). But, don't let this deter you from picking up this extraordinary Mandalorian and adding Din Djarin to your Star Wars collection. It is simply an amazing work of art and show piece.

Don't hesitate and risk having thoughts of regret before it's gone. This collectible is an instant Star Wars classic not to be missed.

This is the way.
5
Superb Figure and great customer service
January 9, 2021
Thanks Sideshow for the speed of delivery from the US to UK. Less than 5 days. In these current circumstances I think that is amazing. Figure was well packed , its just a shame it has a bit import sticker on the side of the shipper box. A minor thing though. Figure is outstanding, must be one of the best Hot Toys products of the year. Very impressed. I think with the suppliers from HK to the UK now having to pay import charges and the cost of shipping increasing I will be purchasing more of my figures from Sideshow. I would highly recommend Sideshow.
5
The Mandalorian
January 9, 2021
Amazing! Super happy with the product, very well made and screen accurate.
5
Mando!
January 9, 2021
Excellent quality!! Exactly as pictured! Highly recommended!
5
The Mandalorian by Hot Toys
January 6, 2021
I am very happy about this figure it look better than I thought and fit with my other figures of Star Wars, thanks a lot for your service.
5
I have spoken
January 2, 2021
I bought this figure (and preordered the beskar version) before even watching the show; just based on how gorgeous he looks... and he's even better in person! I'm tempted to buy a second one, just for the posing/display options. He's not loaded down with accessories; but what he does come with, all fits on the figure, so you're not left with a box of miscellaneous extras. (My one little nit-pick -if that- would be the empty cartridge slot on his ammo belt: I know it's screen accurate, but it just bugs my ocd.)
5
Perfect
December 30, 2020
I take my mando to work. This is the way. 10/10 buying the other variations as well.
5
@Stryker_47
December 29, 2020
If you are a beginner collector like I am and you love Mandalorian from Star Wars like I do then definitely to start your collection like I have this is the perfect one to start off with I love the detail looks exactly like the show I know some people would prefer to get the upgrade armor but the way how I see it just like the Iron Man figure you want to get Mark 1 before you get to the others this is the same thing with the Mandalorian start off with his first armor and continue going to the next I definitely will be collecting more of these from Sideshow Collectibles because this is the way.
5
The Mandalorian
December 28, 2020
Anyone who picks up this piece is going to be blown out the water. Great attention to detail and definitely stands out on any shelf. Would highly recommend picking this one up before it's gone.
5
Great Figure
December 21, 2020
Chose this figure over the beskar figure because I really liked the well worn look of the original armor. Great material and sculpting. I like being able to have scale differences in my character collections and this looks great next to my smaller 1:12, Funko and Toybox figures!
5
This is the Way
December 21, 2020
I ordered the product and was amazed by the detail on the figure for this being my first figure to start off my collection- I preordered the deluxe version of beskar mando and the child and I'm excited to receive them next year. Shipping and delivery was quick as well.
5
This is the way
December 17, 2020
Hands down one the best figures to come out of Hot Toys this year! Love everything about this guy and can't wait for more Mandalorian releases.
5
This is DEFINITELY the way!!!
December 17, 2020
Hot Toys has knocked this one out the park. Stars Wars has gained new life in the franchise and Mando is here to stay.
5
First Hot Toys!
December 16, 2020
Definitely worth every penny and this was my first Hot Toys purchase, and first purchase on Sideshow. Love the details, accessories and especially the stormtrooper helmet on the spike.
5
Mandalorian Hot Toys
December 15, 2020
Everything good... amazing figure.
5
This Is The Way
December 13, 2020
Happy to have added Mando to my collection. Love the show and loving the figure. Thank you Sideshow and Hot Toys.
5
The Mandalorian
December 6, 2020
The detail is great, I'm having a lot of fun posing this figure. Glad I ordered this figure.
5
Jonathan F.
5 star review
Amazing Attention to Detail
December 2, 2020
This was my very first Hot Toys and the product has blown me away. I will definitely be ordering more Hot Toys products in the future.
5
Wherever I go, he goes
December 1, 2020
So much detail! The perfect figure.
5
Amazing
December 1, 2020
The packaging is beautiful. When I received my figure, I was more than pleased! The detail is amazing and I just cannot stop admiring the piece. Great work.
5
Mandalorian
December 1, 2020
5
Amazing attention to detail!
November 30, 2020
As usual the detail is amazing and couldn't be happier with this figure! Thanks Sideshow!
5
Great purchase and fast shipping
November 26, 2020
It's my first figure and to be honest it's worth the price. I was hesitant at first but once I got it in hand I just couldn't stop looking at it. Posing him is super fun and all the small details make him worth it.
5
Mandalorian Score!
November 26, 2020
Totally satisfied with both the transaction as well as the item 🤙🏽
5
Phenomenal Figure!!
November 23, 2020
This is an OUTSTANDING figure!!
Brillantly crafted from the hit Disney show, HIGHLY recommend the purchase of this figure!!

Aloha from Kapolei, Hawaii
5
My First HOT TOYS Purchased From Sideshow Collectibles
November 23, 2020
This is my first purchase of a HOT TOYS and I chose "The Mandalorian" after binge watching season one .. i have collected TBLeague for cool kitbash ideas and now my journey begins here ... "It is the way"
5
My Favorite Figure
November 23, 2020
This is a must have Mando figure!!! Love this must have in your collection.
5
This is the Way!
November 21, 2020
What more can be added? Nothing else :) Absolute form of perfection, precision of workmanship, film quality ... Second Mando right after Fett :) So we are waiting for Heavy Infantry Mando :) May the force be with you .. always :)

Gragon Dett
5
This is the way!!
November 18, 2020
The Mandolorian is an amazing collectible piece, it's great. I love everything about it. Its better in person than pictures. The base is outstanding, thanks Hot Toys for changing up the base with sound diorama stuff, looks sick!!!! This is the way!!
5
Hot Toys The Mandalorian 1/6 scale
November 17, 2020
I couldn't be more delighted with the figure and the service provided by Sideshow Collectibles !
5
A WORK OF ART!
November 17, 2020
This figure is a work of art! Such detail and amazing accessories. This is the way!
5
Amazing Figure! This Is The Way!
November 17, 2020
I am so glad, I purchased this beautiful collectable. It looks like it jumped straight out of my T.V screen. I absolutely recommend this, to anyone, who loves Star Wars, or The Mandalorian!
5
Quality A+
November 17, 2020
Fun figure , great display piece
5
Great Figure
November 16, 2020
5
This is the way Mando
November 16, 2020
This is definitely a must have figure if your a fan of the Mandalorian Tv show. I honestly recommend that you own both the original look and the full beskar version to see how he started to look in the first episode to his new look. This guy can be posed in many cool ways and you could probably not get old of it.
5
Incredible!!
November 15, 2020
First ever Hot Toys 1/6 scale and it will be a forever piece in my collection. 100% recommend this Beauty.
5
Incredible figure, don't miss out!
November 15, 2020
This piece is incredible! Lots of articulation, the fabric isn't restrictive so there's many poses that can be achieved and the finish on the figure is immaculate. Also the inclusion of the weathered stormtrooper helmet for the pike really adds to the display options!! Overall an incredible piece that will go up in value on the aftermarket! There will be many Beskar versions, but only one of this look for Mando. Don't miss out!
5
WOW SO GREAT
November 15, 2020
THX SIDESHOW AND HOT TOYS FOR THAT GREAT FIGURE
5
This is the Way
November 14, 2020
Maybe the best Hot Toys figure of the year : accurate, very detailed and well crafted.
This piece is a must have for every Star Wars fan.
5
Masterpiece
November 13, 2020
Maybe the best Sixth Scale Figure of 2020.
This piece is a must have for every Star Wars fans : accurate, highly detailed and well crafted. Furthermore, articulations and accessories are really nice.
Its value will probably increase to very expensive when out of stock ...
5
WHAT A PIECE!!!!
November 12, 2020
Recently got my Sixth Scale Mandalorian Figure and it truly is a gem. It captures every detail of his persona and donned clothing. Articulation is also exemplary. A MUST HAVE for the Star Wars Collector or if you are an avid fan of this Disney Plus series.
5
Yes.
November 8, 2020
1000000% worth purchasing!
5
Wonderful purchase, love it!
November 5, 2020
Just as the title claims, it's a wonderful figure, and I love it!
5
Mandalorian
October 27, 2020
Very nice, great accessories, accurate to series, highly recommand
5
It's Mando, man!
October 26, 2020
Sick ass figure. Looks great next to my vintage Jawa.
5
So Realistic and Accurate
October 24, 2020
Yo I would be lying if I said I didn't enjoy posing this guy around, I'm definitely getting into this line with some proper budgeting and selling somethings (This Is The Way). The Mandalorian and The Child Deluxe is already preordered. Looking to get The Heavy Infantry Mandalorian and The Death Watch Mando. I highly recommend this figure, it's still up for preorder. I will say the suit somewhat hinders the articulation, but if your comfortable with doing so I recommend removing the under suit for more possibility and he comes with the necessary accessories but as far as quality you get the bang for your buck.
5
Amazing Detail
October 22, 2020
I love this figure so much. I love how realistic Mando's clothes look and even feel. I also love how you can change Mando's pose to many different poses. Lastly, this figure is the first of hopefully many figures I get from Sideshow, since I'm only 16 and don't have a job yet.
5
Amazing Collectible
October 22, 2020
I am so happy to finally have one in hand he is amazing and was definitely worth the wait!
5
Figure of the year by Hot Toys
October 22, 2020
This figure is so good, in hand it's absolutely incredible highly recommended, don't sleep on this guy !
5
Hot Toys Figure of The Year #1
October 21, 2020
Don't miss getting The Mandalorian Figure based of Ep 1 and 2, it blows my mind every time I look at my Display Case, and Mando Looks Back at you and says This is The Way!!!! Seriously The Most Awesome Figure Hot Toys Ever Made..... Just WOW
5
Amazing.
October 21, 2020
Don't miss out on the OG Mando! He's absolutely stunning. You will NOT be disappointed.
5
Don't miss this figure!
October 15, 2020
I remember hearing a lot of talk that collectors were going to forgo this version of The Mandalorian for the one in full Beskar armor. I can't speak for every collector, but this figure is absolutely incredible! There are definitely many display options for this figure, and when The Child is released with the Beskar Mandalorian, this figure would be perfect paired with The Child in his hovering pram. The rich detail provided by Hot Toys is legendary, and they have left none absent in this figure. For example, the way his pulse rifle slings across his back. It attaches on the top to the silver connector that's at the top of his shoulder strap, and attaches on the bottom from a (somewhat hidden) strap on the back of his belt. It answered a question I asked myself during the episode where he delivers The Child to The Client, for when he meets with Greef Karga in the cantina, it wasn't clear how his rifle was attached to his back. Now it is! If you love The Mandalorian, this figure belongs in your collection!
5
Mandalorian
October 11, 2020
So realistic, love this item,
5
Fantastic Mando figure
October 2, 2020
Just received my Mandalorian figure which is another top class made figure as you would expect from Hot Toys. The outfit on the figure is first rate with fantastic weathering detail on Mando's armour. Now thinking of ordering another version which will come with (baby yoda) the child to add to my collection.
5
The Mandalorian Sixth Scale Figure
5
67
67
Tabletop View — The Mandalorian Sixth Scale Figure
11.81" (299.97 mm)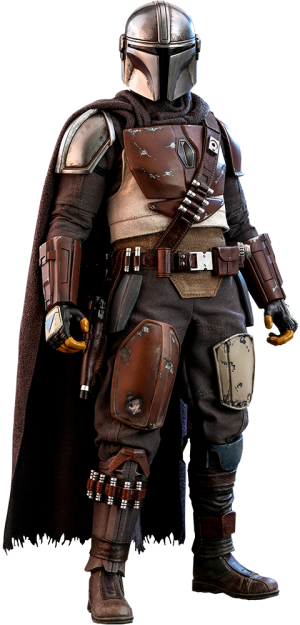 Scale is approximate and should be used for rough comparisons only.