King of the Hill: A Look Into The Joe Hill's Novels, Comics, and Stories
If it's true that the apple doesn't fall far from the tree, well, in Joe Hill's case, it's probably a demented apple. As the son of the legendary horror scribe Stephen King, Hill has established himself in his own right as a formidable horror writer through both graphic novels and traditional novels despite the fact that he has some huge clown shoes to fill. 
And with Locke & Key, Hill's second television series after AMC's NOS4A2, debuting on February 7th on Netflix, it's an opportune time for identifying some of his more noteworthy contributions to the horror genre, which not only stand on their own merit, but also inspire just as equally vivid nightmares as the ones his father has spent almost fifty years unearthing from his mind's hellscape. 
---
Horns
As far as love stories go, this one seems fairly typical. Boy meets girl. Boy falls in love with girl. Girl gets murdered. Boy grows horns on his forehead and hunts down her killer.
But seriously, folks. If you know anything about Hill's oeuvre, you know that there's nothing typical about his narrative approach. In fact, his acid trip-like zig zags are very much what distinguishes his secret sauce from that of his father's. 
Featuring an aimless 26-year-old named Ignatius "Ig" Perrish, Horns unfurls in unpredictable ways with our protagonist's aforementioned horniness going beyond just the metaphorical- as it turns out, Ig's pointy accoutrements possess the unusual power to convince anyone he encounters to share their darkest secrets, and in some instances, even make people give in to their repressed urges.
By the story's end, Ig uses his newfound devilish abilities to eventually solve the mystery of his girlfriend's death before transitioning into a full-blown demon, complete with fiery skin and leathery wings, while also employing a swarm of mind-controlled snakes to exact gruesome revenge on the killer. 
Or like I said, it's just a typical love story.
Watch the faithful film adaptation starring Daniel Radcliffe if you'd like to see Harry Potter exploring his dark side.
---
Hill House Comics
A week after DC Comics shuttered its legendary Vertigo imprint, home of Preacher, Sandman, Swamp Thing and Y: The Last Man, the publishing house announced that Joe Hill would oversee his very own comics imprint called Hill House Comics. And the timing is no coincidence. 
In fact, Hill House, which has launched with five initial offerings, possesses a similar (haunted?) spirit as Vertigo and is as equally provocative and genre-defying as the once famed imprint founded by respected editor Karen Berger. Which means there's nary a flying man in tights saving the day to be found. 
Basketful of Heads written by Hill himself features a girl, an ax and a basketful of those titular heads which all obstinately still speak despite being disconnected from their bodies, with each one sharing their own story of how they got there. The writer pitched it as a "grindhouse Rashomon." Plunge, the only other title written by Hill, is about a research ship discovered in the Arctic forty years after its disappearance…with a crew that hasn't aged a day. While this is the only Hill House title not yet released, Hill described it as "my chance to riff on one of the greatest horror films of all time, John Carpenter's The Thing." 
Other titles, written by others but still supervised by the imprint's proprietor, are The Dollhouse Family by comic writer Mike Carey, The Low, Low Woods by acclaimed short story author Carmen Maria Machado, and Daphne Byrne by screenwriter Laura Marks. Each one creepy enough to earn the Hill stamp of approval. 
---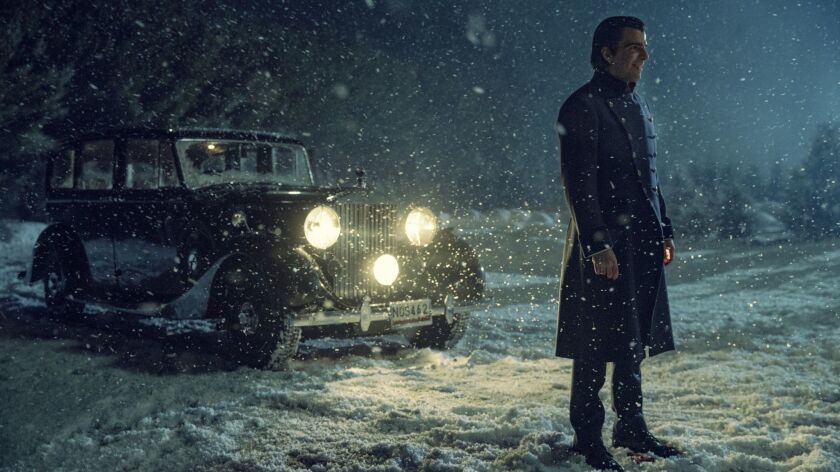 NOS4A2
It's been nearly one hundred years since F. W. Murnau's silent film Nosferatu shocked German audiences, so it's safe to say that since then we've witnessed all the many iterations of the vampire narrative. 
In steps Hill who says, "Hold my blood," and unveils a novel about an immortal child predator named Charlie Manx who feeds off the souls of the young and transports their soulless bodies to a haunted holiday-themed amusement park called Christmasland via his 1938 Rolls-Royce Wraith bearing the license plate NOS4A2. Or as Hill said about his third book, "I wanted to write a vampire story that avoided the fangs and the bat." 
Still with us? Well, this 720 page book, the horror writer's longest, also features Victoria McQueen, the only living Manx survivor and his eventual antagonist, who can ride her bicycle through a portal called the Shorter Way Bridge and teleport to the location of any lost item she seeks and just so happens to be the only one with the power to defeat our soul-sucking kidnapper.  
Experiencing NOS4A2 is in equal parts thrilling and challenging with moments aplenty in which the reader, like the children in the backseat of Manx's Wraith, has the choice to either trust the driver or, like McQueen, jump out with your soul intact. It all depends on just how you value your soul. 
---
Locke & Key
On the surface, the premise for Hill's first comic series feels oh so gimmicky; a family named the Lockes moves into a mysterious home called the Keyhouse and discover mysterious keys that can bestow seemingly convenient and arbitrary powers on the one who bequeaths one. Like the Giant Key, for example, or the Hercules Key, or the Animal Key, or the Gender Key amongst many others, all of their magical properties fairly self-explanatory.  
But while Locke & Key is overtly supernatural, at the heart of the narrative is a recently widowed wife and her three children who are dealing with the horrific murder of their husband and father, each family member dealing with the newfound imperative of caring for one another in an intentional way. And as if dealing with intense trauma wasn't difficult enough, the Lockes are also confronted by a once-imprisoned and vengeful spirit and its possessed murderous lackey both determined to recover the keys for themselves. 
And to keep things unpredictable–as if it needed that–along the way, Hill introduces new terrifying subplots which makes sense considering his outspoken appreciation for Neil Gaiman's The Sandman. "Neil discovered that he could tell any story he wanted using dreams as his leaping off point," Hill explained. "And I always felt that with Locke & Key, we could do the same thing with the keys. That every key had the potential to tell a different story."  
Well, it seems he still has many stories still to tell-Hill announced at 2019's Comic-Con that he would return to the series later this year. 
---
Joe Hill: The Graphic Novel Collection 
Think of it as a Joe Hill smorgasbord. Through 484 pages of doom, gloom and boom, The Graphic Novel Collection delivers on a variable of Hill-flavored treats with five separate comic mini-series all compiled here together for the masochistic reader's binge read.
The opening story and the best of the collection titled The Cape features a downtrodden ne'er-do-well who ties a childhood security blanket around his neck, suddenly finds himself capable of flying and, since this is a Joe Hill story, starts killing a buncha people. Other stories include Thumbprint about being haunted by PTSD and the Wraith, a prequel story to NOS4A2.  
What you come away with once you've absorbed all of the intentionally depraved storytelling found herein is that it's actually quite amazing how much talent could be delegated to one family with Dad as the uncontested master, and with Hill, as his father's son, forging a blood-soaked path of his own. 
---
Which of Joe Hill's stories have you read? Will you be checking out Locke & Key on Netflix? Let Your Geek Sideshow and tell us in the comments!