In a world of ordinary mortals, she is a Wonder Woman!
Since her debut in the early golden age of comics, Wonder Woman has been a blazing symbol of feminine power, intelligence, and grace.
Created in 1941 by William Moulton Marston, the same psychologist who invented the polygraph test, it's no surprise Wonder Woman wields the magical Lasso of Truth alongside her unbreakable gauntlets and Amazonian strength. Using his wife's achievements and personality traits as inspiration, Marston felt that a female superhero would be entertaining and a good role model for young women – and of course, he was right!
As strong as Superman and as fierce as Batman, she has earned a central role in "The World's Finest Trinity" and as a founding member of the Justice League. With a popular 70's TV series, various animated appearances, and a new film on the horizon, she's been a beloved DC Universe character for decades. Everyone, male or female, can admire Wonder Woman's strength and compassion for humanity.

Introducing the Wonder Woman Premium Format™ Figure
Joining her powerful Justice League allies, Sideshow is proud to debut the magnificent Wonder Woman Premium Format™ Figure from our wildly popular DC Comics collection.
Handcrafted with austere beauty and fierce determination, Princess Diana of Themyscira dons her iconic costume of stars and stripes, sworn to protect the world and uphold her mantle as Wonder Woman.
[store-items skus="300115,3001151″]
Granted divine superhuman powers and superior combat skills, the warrior princess is ready to gracefully accept any challenge, armed with her golden Lasso of Truth, indestructible bracelets, and tiara.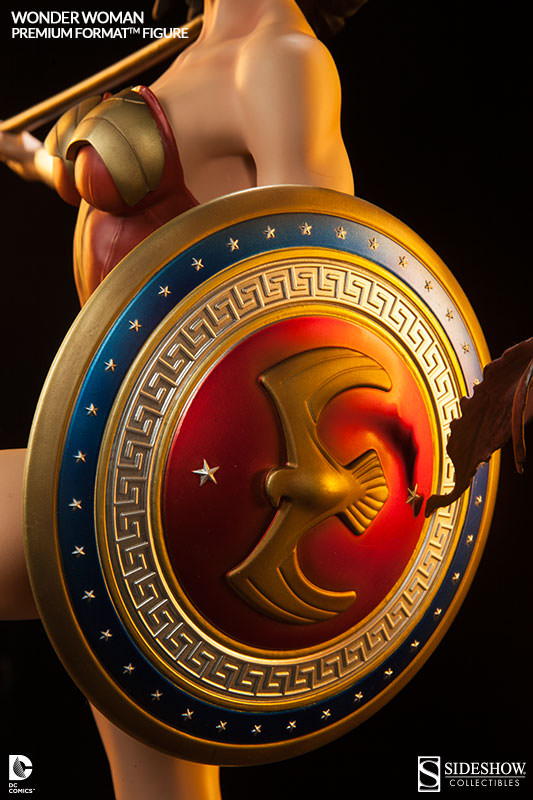 She carries a long spear across her shoulders, and her iconic shield grasped firmly at her side – but above all, she carries the Amazons' message of peace and justice.

Sideshow Exclusive Edition
The Sideshow Exclusive edition gives collectors the option to display the mighty warrior princess with offensive tactics, brandishing an intricately designed axe in place of her shield.
Fans of the mythic DC Comics superheroine are sure to find the Wonder Woman Premium Format™ Figure an essential addition to their collection!