The very mention of his name makes lesser men tremble!
Widely renowned as one of the greatest Marvel villains of all time, Doctor Doom has been the scourge of countless heroes since his first comic book appearance in 1962.
With the immediate success of the The Fantastic Four series, legendary creators Stan Lee and Jack Kirby were determined to dream up a "soul-stirring, super sensational new villain." In the search for a suitable name, Lee found 'Doctor Doom' "eloquent in its simplicity – magnificent in its implied menace."
No one rivals Doom – No one!
Sideshow is proud to introduce the next addition to our Legendary Scale™ Figure collection, Doctor Doom!
[store-items skus="400086″]
"From this moment on, I shall be known as Doctor Doom!"
Ready to unleash Doom Bots on his foes at a moment's notice, the fearsome tyrant strikes a commanding pose upon a stone corner pedestal, with one foot planted on a howling castle gargoyle.
Scarred and disfigured in a fateful accident at the hands of his own machine, Victor Von Doom hides his face from the world and himself behind a scowling mask.
In celebration of Doom's evolution throughout the ages, Sideshow's artists have crafted two mask options for classic and modern interpretations (above). Additionally, viewers may remove and display the masks on an included stand to reveal his disfigured visage beneath, and be among few mortals who have laid eyes on the face of Doom!
Each flourish and rivet has been artfully embellished on the infamous titanium armor battle suit, Doom's primary source of vast scientific gadgets and mystical weaponry. His costume is layered with the trademark hand-tailored fabric billowing green tunic and hooded cape, held fast and finished with ornate metallic clasps and chain, and a durable broad buckled belt.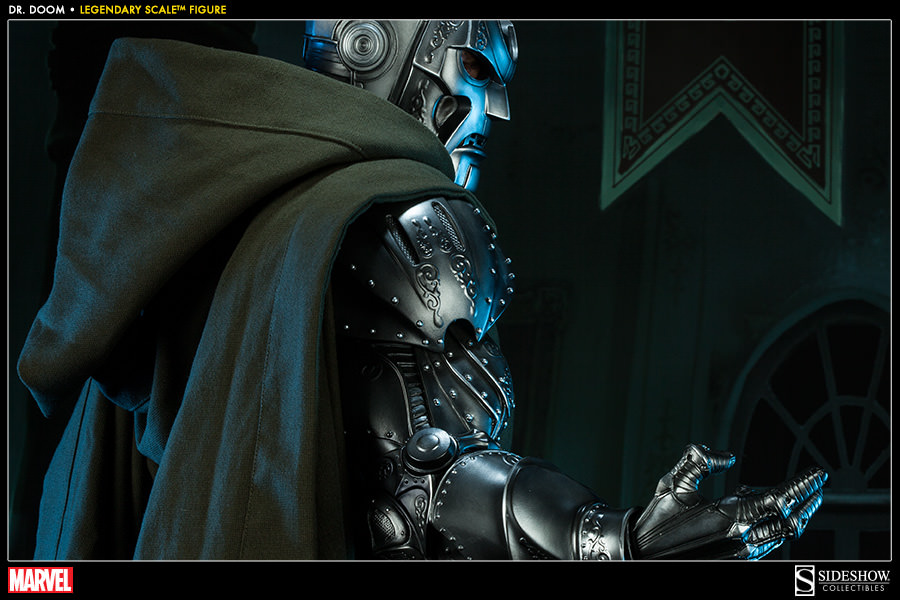 Measuring in at a colossal four feet tall, the Doctor Doom Legendary Scale™ Figure is an outstanding monument to the supreme ruler of Latveria. Underestimate him at your peril!