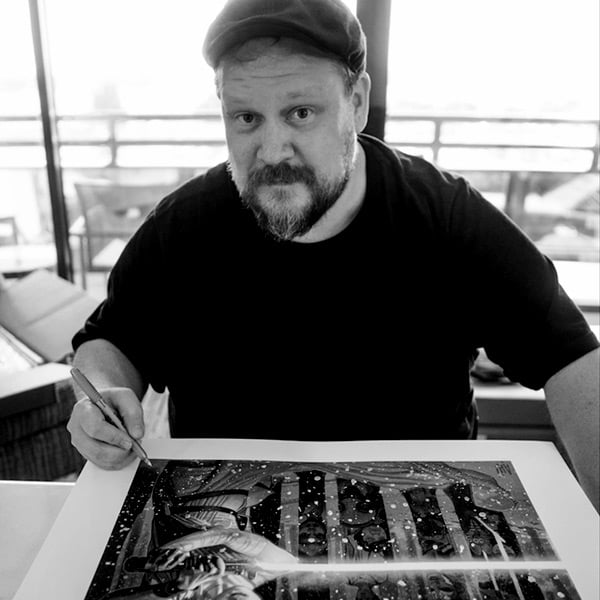 Adam Hughes is most commonly known for his stylized renderings of women; super heroines, damsels in distress, figures in fantasy.
Adam began working in comics at the age of 19, in 1985. In 1988 Adam lent his talents to a comic book called Maze Agency; a book which many consider to be his first real artistic "run" on a title. He did over a year on the book; of both interior and cover artwork. In 1989 Adam began working on his first "mainstream" comic book title: DC Comic's Justice League. He worked on the book for almost 2 years, doing covers and interiors until 1990, then switching to supplying artwork for just the covers. Eight years later, Adam began what many see as his most acclaimed cover work. Adam's recognizably strong and elegantly drawn women have graced the covers of four years worth of DC Comics Wonder Woman title, which was followed by 4 more years on Catwoman.
Today Adam is best known as a cover artist. He pencils, inks and colors his own covers, using both traditional and digital mediums. His artwork can be seen on an amazing assortment of comic book covers as well as many places outside the comic book industry. His work can be found in magazines like Imagine FX and Playboy and on trading and sketch cards for sets like Indiana Jones, Star Wars, and many others. He also published his first coffee table book in 2010, collecting his more than 20 years of artwork for DC Comics. Cover Run: The DC Comic Art of Adam Hughes debuted at number 2 on the New York Times Best Sellers list when it was released, and is currently in its third printing.
When he isn't drawing or attending comic cons, he likes to relax with his best girl by his side, his wonderful Old English Sheepdogs, and what he calls "his 2 crummy cats".