The Leader of the Wolfpack joins Sideshow's Star Wars Sixth Scale collection
 
Inspired by his appearances in Star Wars: The Clone Wars, we're proud to introduce Clone Commander Wolffe from our Sixth Scale Militaries of Star Wars collectibles.
The leader of the 104th Battalion's famed Wolfpack, CC-3636 will come loaded with four interchangeable heads, an extensive arsenal, and full range of articulation.
The development team chose a couple of display options from The Clone Wars Seasons 2 through 4 for the battle-hardened commander. Wearing his Wolf design armor and traditional kama, he will come with Phase 1 and 2 helmets, and swap-out heads featuring his battle scar and cybernetic eye.
Sideshow Exclusive Edition
The Exclusive version of Commander Wolffe will also include a second display base with the Wolfpack logo artwork (shown below).
---
Both the regular and Exclusive versions of the Clone Commander Wolffe Sixth Scale Figure will be priced at $159.99, with optional payment plans available. Pre-orders begin Thursday, April 4th. Howl Wolfpack!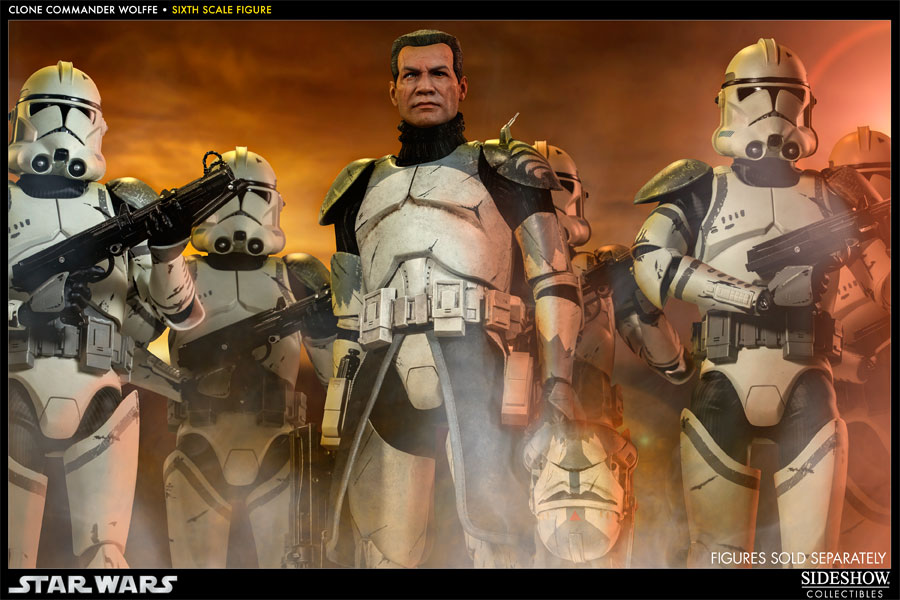 [store-items character="Clone Troopers"]