Throughout history, no matter the challenge, the one thing that has helped us get through uncertain times has always been storytelling. And if anyone can truly understand and appreciate the power of escapism, it's our fellow geeks. 
In fact, many of us have even secretly fantasized about being stuck at home just so we could get through our piles of comics or to catch up on our binge watches or finally spend quality time with that console game. There's even a viral parody article circulating in social groups in which it's been declared that "Nation's Nerds Wake Up In Utopia Where Everyone Stays Inside."  Which means many of us still understand that while we find ourselves indoors for an uncertain amount of time, there's still very much an opportunity to escape. 
Below you'll find a potpourri of comic commitments, and by "commitment," we mean that these are worlds to get immersed in, cult favorites that you've been putting off for some time because perhaps you've been intimidated by the investment. But if there's a silver lining to all of this, it's that comic book shops and bookstores are still shipping out orders and you've got some time to read. So, even though we're becoming uncomfortably familiar with the confines of the four walls around us, we can still step out–figuratively, of course–and get lost in a good story.
---
Sandman

There's nowhere further from reality than in our dreams, which is why Neil Gaiman's Sandman is so perfect for right now. Featuring the Lord of Dreams himself, Gaiman's transcendent tale tells the story of a Goth-looking deity as he escapes a decades-long captivity and attempts to regain dominion over the sleepytime realm. Along the way, Gaiman deviates from Dream's seventy-five issue core narrative with mini-arcs and one-off stories about serial killer conventions, talking ravens, amnesiac princesses, and feuding angels among many other otherworldly scenarios. There's even an acclaimed riff on Shakespeare's A Midsummer Night's Dream, which infuses some highbrow into your funny books.  
Ultimately, though, every conversation involving the best comics of all time includes Sandman but be forewarned: it's trippy and dense. Which is why it's taken me personally a long while to get through it. Not that the material doesn't warrant binging–it's just that I personally can only spend so much time dreaming. 
---
Black Hammer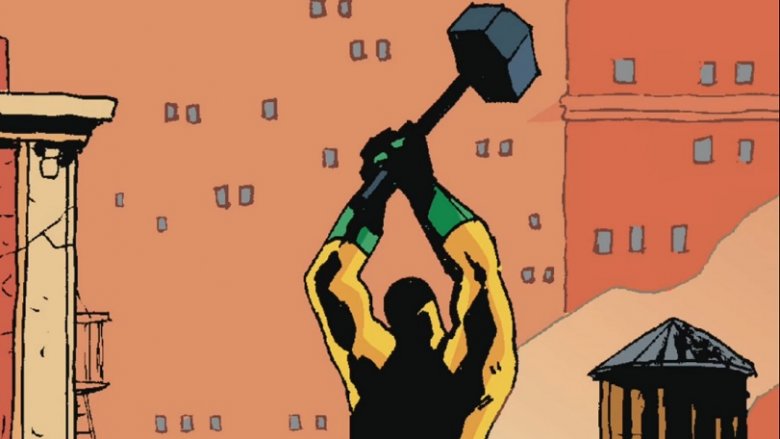 Are you feeling like you've forgotten what day it is? Are you looking in the mirror and wondering, "Who am I?" or "Where am I?" If so, Black Hammer is an essential read. Written by the hard-working storyteller Jeff Lemire, the ongoing Dark Horse series centers a team of amnesiac superheroes who are stuck in the domestic prison of an American Gothic painting. It's only the semi-delusional Colonel Weird who insists on the existence of an alternate dimension in which our heroes purportedly originated from. Eventually the story pivots to reporter Lucy Weber who is searching for her father, the Black Hammer himself, and it's her insistence on solving the mystery of his disappearance that melds the two seemingly disparate narratives together. 
Black Hammer is worldbuilding at its best featuring a wholly relatable conceit: a longing to return to normalcy while also stuck in a surrealistic netherworld of a faux domestication. 
---
Preacher
Whichever higher authority you believe in and your feeling about Him or Her right now in these times, Garth Ennis's Preacher is a vicarious thrill. That is, if you can handle irreverence in heavy doses. This classic Vertigo series stars an ordained badass named Jesse Custer, along with his hard-drinking vampire sidekick Cassidy and his zero f***s girlfriend Tulip O'Hare as they journey across the United States in an effort to find God–literally–after He's abandoned His exalted post. It's a gasp-inducing seventy-five issue run that's collected many accolades over the years with praise from a passionate fanbase which includes the demented minds of Stephen King, Seth Rogen, and Kevin Smith among others (Rogen even exec-produced a worthwhile TV adaptation). 
---
Bone
If you're going to be around your children a lot, you may as well bond over great storytelling together and Jeff Smith's Bone is the perfect fantasy graphic novel for both of you.  
Cousins Fone Bone, Smiley Bone, and Phoney Bone, who are all pure cartoon with four fingers and no pants, are exiled from their home Boneville and retreat to the Valley where they encounter dragons, rat monsters, and humans. The Tolkienesque tale then gradually builds from its retro-Disney cute beginnings to an eventual full-scale war with epic consequences. 
Which makes perfect sense–Smith once said his inspiration for the Bone was a "what if?" scenario imagining Scrooge McDuck on an adventure that matched the quality and page length of War & Peace or the Odyssey. 
And the ambition paid off–the all ages series has won ten Eisner Awards and is currently in development at Netflix for a forthcoming animated series.  
---
The Vision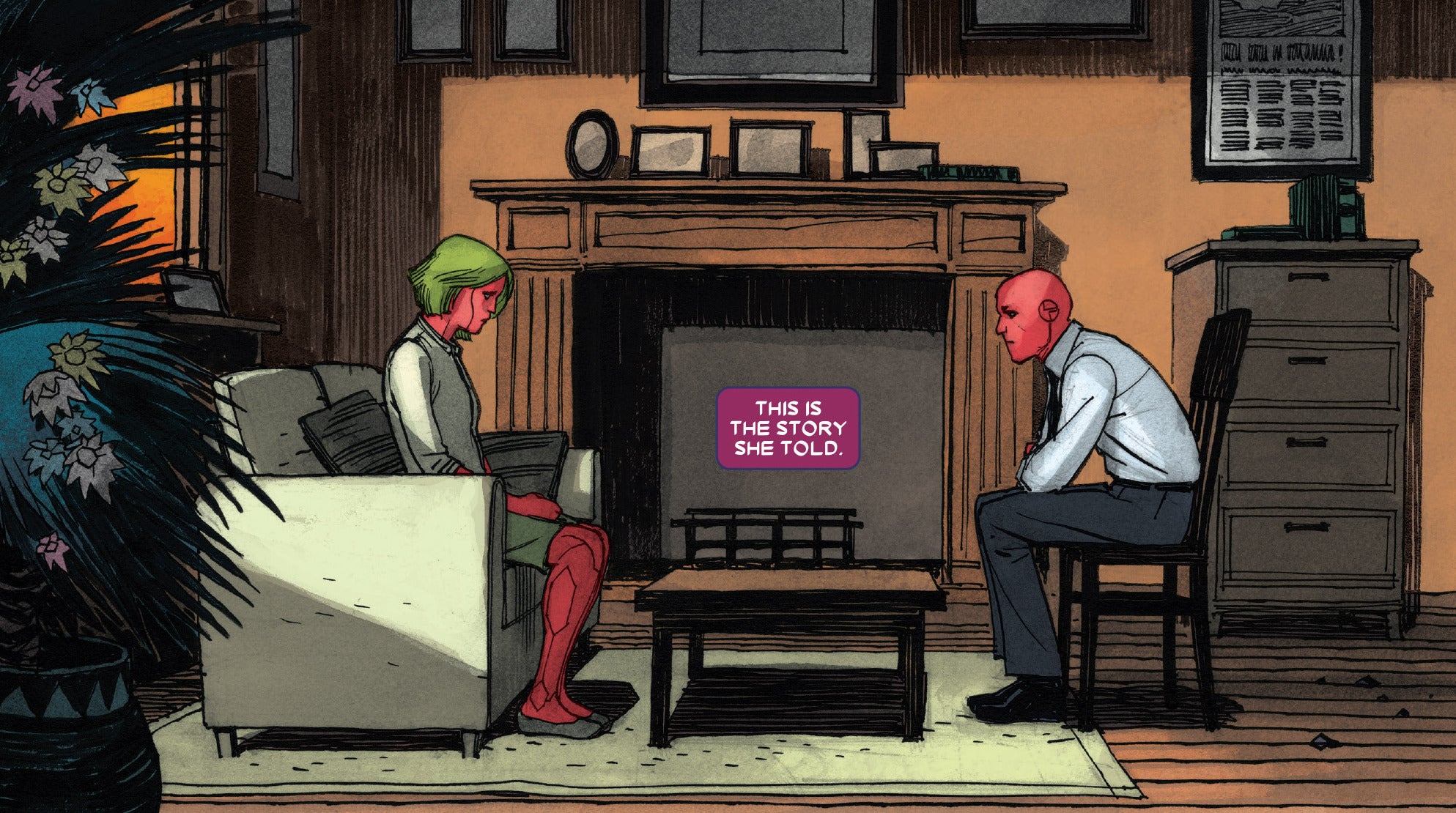 If anyone could relate to our newfound perspective shift on the importance of the nuclear family, it's probably the Vision. In Tom King's The Vision, the android Avenger moves to the suburbs with his wife and two children to experience suburban ennui firsthand, but eventual conflict, ranging from enemies as disparate as super villains to bigoted neighbors, challenges their quest for normalcy.
Yearning for domestic stability is a sentiment conveyed throughout the twelve-issue limited maxiseries but it's also one that feels uncomfortably topical. When King wrote The Vision, he couldn't have imagined that, much like the sentient synthezoid, we would, only a few years later, also be craving for mundane freedoms like sending our kids off the school, barbecuing with friends, or joking with our co-workers about having saved the world, at a minimum, thirty-seven times.
---
Daytripper
And despite uncertain times ahead, there was no way I wasn't going to end this on a hopeful note, albeit one that confronts mortality. Gabriel Ba's Daytripper is a haunting meditation on life and death that on the surface could read depressing; after all, our protagonist Brás de Oliva Domingos is an obit writer who dies on the last page of every installment. But nevertheless, upon the culmination of the ten-issue series, we're left inspired by this poignant tale, one that encourages the reader to cherish each day as if it were their last. "Life is like a book, son," his father tells Brás in a flashback, "And every book has an end. No matter how much you like that book." It's a sentiment like this, and many like them in Daytripper, that invites reflection and asks us to love better, to live better…to be better. And if ever there were a time to reflect, that time is now. 
---
Other recommendations which I've already written about on Sideshow:
Saga by Brian K. Vaughan – An epic tale about a family trying to figure out how to be family despite the chaos of the universe imploding around them.
Swamp Thing by Alan Moore – On the surface, it's a Southern gothic horror, but deep down it's a pertinent read that explores love, humanity and our relationship with the planet.